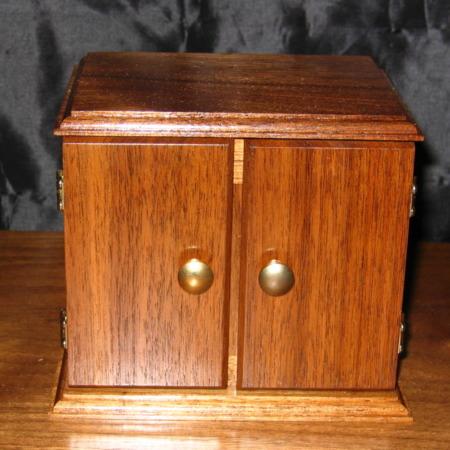 You can always spot a real Craftsman!

My good friend Howie over at The Trickery has struggled with various wood guys over the last ten years or so since his business began. In all of these years, in my opinion, he has only employed one real Craftsman – the infamous J.L. Wright. Few know the true identity of this character but whoever he was he was very talented, and it is a real shame he is no longer making magic.

His pinnacle was clearly the Definitive Hole in One and other treats where his Jack and Jill, the Collector's Edition Dice Box, and Penny Pour. This particular Mini Production Cabinet, an old trickery favorite, is probably the second best item he produced for Howie.

It is very beautifully made in Walnut. It has a very clean production mechanism and is a true joy to behold. It even has a feature that allows you to hand out the box for examination at the end if you so desire. This is truly collector's quality and since he is no longer creating items for The Trickery or elsewhere as far as I know, these will soon be impossible to get hold of.

Howie still has a few left so grab them while you can!

Highly Recommended!
(Please notice that the items in the photo are all Trickery Exclusives, but they are not all by J.L. Wright)
Click here for more information.