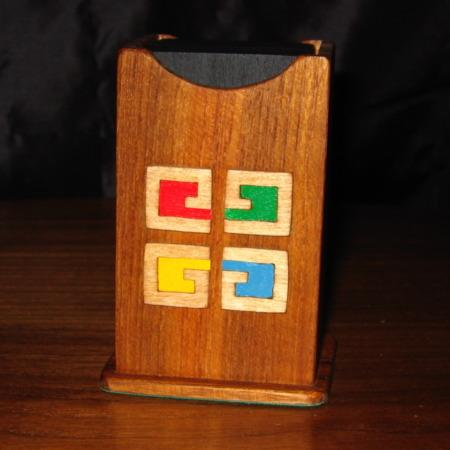 Clean prediction with beautiful Props

As I slowly, but surely, add a few items back to my once huge Alan Warner collection I find time to play with each piece more than ever before. There has never been any doubt about how beautiful Alan's work is, but where he equally scores top marks is how he thinks through all the nuances of a relatively simple effect.

With this beautiful prop the spectator is asked to select any one of the 4 colors shown on the front of the fine teak holder. Then without any strange moves you simply take all 4 dominoes out and there predicted is the one chosen by the spectator. The dominoes can be replaced and are instantly ready for the next performance. It must be noted, that although there is no force of the colors the seemingly clean method of revelation of the color does not bear repeating to the same audience.

What strikes me with all of Alan's magic is how he makes use of every chance to help the performer. In this case, the holder itself with the layout of the colors provides a subtle reminder how to remove the dominoes.

This is a very clean prediction effect and is beautifully made. If you have not seen some of Alan's work up close and personal I suggest you head over to his wonderful website and see for yourself why he is clearly the king of mini-magic. If you get a chance to own some of his magic I strongly urge you to do so – in a world of mass produced items Alan stands out as one of the remaining true craftsman in our art.
Click here for more information.