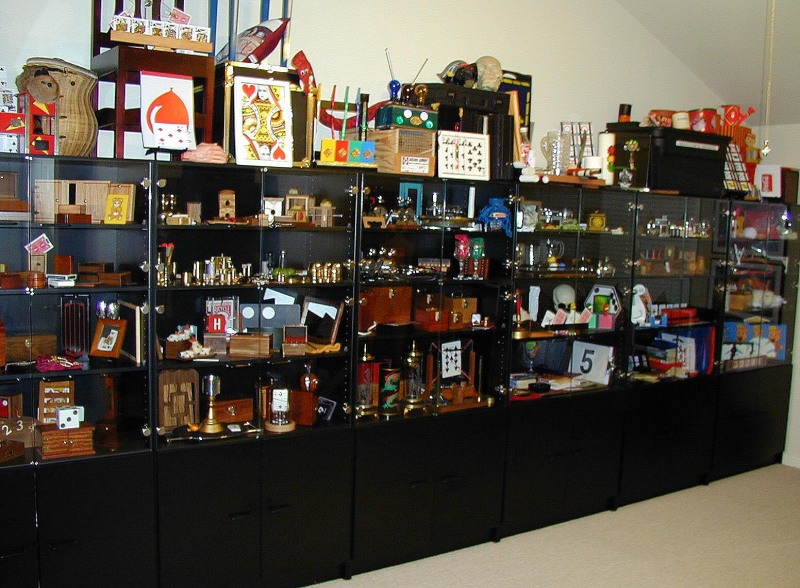 Please Note: I do not sell magic on this site, but from time to time I do sell items from the collection on my sister site: Quality Magic Sales, and a list of our recommended magic dealers is here. In addition, where possible I try to link to a dealer where you can buy the products if available online. Unfortunately these links change quite often, but I do my best to keep them up to date.
MartinsMagic.com features the largest online collection of rare magic, vintage magic, and new magic today. I began the site as a hobby at the end of 1999, just before the dot.com crash. If the collection was intact it would fetch well over $1 million today. Sadly, due to finances and space I have had to sell most of the collection, but nearly all of it can still be viewed on this site.
I still add to the collection quite regularly so check back often to find some photos of amazing magic you might not have seen before, or to be reminded of some great magic you once owned.
Over the years I've received support for this site from various individuals, including: Collectors, Dealers and Craftsmen. Of these, I would like to make a special mention to: George Guerra, Paul Richards, George Robinson, Alan Warner, Magic Wagon, Francois Danis, Digital Cheetah, and Premium Magic Network. In particular, I would like to mention Joe and Mark Stevens of Stevens Magic for continuing to support me over the last ten years, your help is greatly appreciated.
Thanks for visiting, and enjoy the magic!
Andy Martin
October 2014