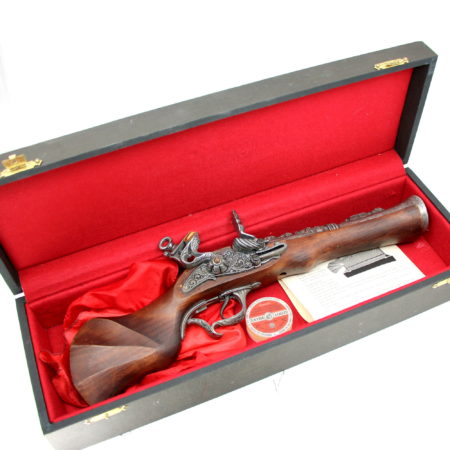 Magic Hands have a very good track record with their Silk Pistols. They released their first one c. 1974, this amazing beauty c. 1979, and their final one c. 1984. So when I finally sat down to understand how this worked I was quite excited to see what they had achieved.
Well although the pistol looks amazing and is very collectible as it is, I don't think this blunderbuss style is even close to the functionality of their other two pistols. It is designed to work with another product released by Magic Hands called: Gorden's Silk in Balloon II where you can supposedly shoot not one but two silks from the pistol into a balloon. That sounds great but as a Silk Pistol this actually only vanishes one silk and the second one is done by subterfuge. Worse the first silk is not actually vanished either a switch is made so that instead of vanishing a full silk just a small corner is vanished. So rather than actually vanishing two silks this pistol actually vanishes a small corner.
To add insult to injury I am unable to set this up so that it even vanishes the corner 🙁
As it stands this pistol vanishes nothing let alone two silks!
The way it is supposed to work is:
You show the pistol. Load the first silk down into the barrel of the gun and supposedly let a small part of the corner of the silk hang out (this is in fact the switched corner). The switch is easy enough to do (you simply push in the first silk and let fall out the fake corner in its place), but the vanish is a far cry from a full silk vanish as with other silk pistols.
This corner is attached to a thread inside the barrel and when you fire the gun the first time the thread is meant to be pulled up and vanish the silk corner and of course then the silk appears in the balloon.
Then you load the second silk – there is not even a pretense at hanging out from the barrel this time just load it in the barrel and fire.
And the second silk appears in the balloon.
So even if this works perfectly as designed at best it would only vanish a single silk corner. Could it give the impression of vanishing two silks – yes I think so as long as the appearance into the balloon looks effective it could. However, there is no doubt to the spectator where the silks are as the audience saw you push them inside the barrel and of course you cannot look inside the barrel.
But if you purchased thinking you'd be vanishing two or even a single silk as you would with other silk pistols (as I did), you are going to be disappointed.
Bottom line this is deceptive magic advertising at its best 🙁

Click here for more information.