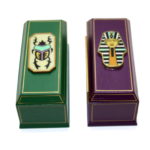 This document traces the origins of The Wandering Mummy that Magic Collectors and Craftsmen around the world are so fascinated with. It would not have been possible without the generous help of fellow Mummy enthusiasts, craftsmen and historians: Alan Warner, François Danis, Olaf Guthling, Lorenz Schär, and Chris Wasshuber. Ian Buckland has also been instrumental in fleshing out details of the early history and he provided François with much of the original copy that was given to me and I have expanded on below.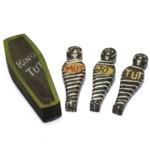 The Mummy has been a key theme in close-up magic since 1900 where the first ideas came from Okito (Theodore Bamberg). In 1902, Karl Edler created The Three Mummies which is the first close-up effect with mummies that resembles The Wandering Mummy. This was not a transposition effect but a mentalism effect whereby the magician could discern which Mummy had been chosen. Karl created many versions and clearly was inspired by the theme.
In 1948 the Swiss magician/inventor Dr. William Weyeneth invented a trick called "The Vanishing Mummy" (Das Geheimnis der Mumie) which was published in Hokus Pokus (vol. 9 No. Sondernummer 2). Not only did the mummy vanish but Dr. Weyeneth also incorporated the floating Mummy (La Momie voltigeante) common to many later Wandering Mummy versions. A good friend of Dr. Weyeneth was Oskar Rey who was the founder of the Magic Ring of Switzerland and had a small store of magic items.
Another friend of Dr. Weyeneth and Oskar Rey was Charly Eperney, the French/Austrian magical scholar who is best known for his detailed book "Enzyklopädie der Mikro-Magie". These three would meet at the Swiss Magic Ring and other locations when Eperney was performing or visiting in Switzerland. Charly Eperney appears to be the inventor of The Wandering Mummy as we know it today by taking Dr. Weyeneth's creation and adding the second sarcophagus and second mummy.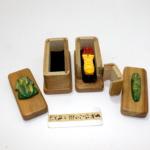 The first time the Wandering Mummy was available from a Magic dealer was in the mid 1950's from the German Magic Dealer Joe Wildon. These were manufactured by Oskar Rey and were almost the same as the set produced by Inzani-Henley in England but almost ten years earlier. Remo Inzani and John Henley obtained the rights in the early 60's to craft and sell The Wandering Mummy in their own catalog and it first appeared in 1964. According to Ian Buckland, Inzani-Henley did not make their own Mummies but sourced them from Europe. This goes against the narrative that François Danis had mentioned to me that John Henley had told him they were crafted in Devon, England. As with so many details in magic even basic facts are not so easy to nail down.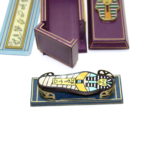 Between 1964 and 1966 Eddy Taytelbaum was shown either Inzani-Henley's or Oskar Rey's set by a friend and was requested to create a unique version. Which of course Eddy did, producing what many collectors consider not only the finest Mummy version, but arguably one of the prettiest and most collectible examples of micro magic ever produced.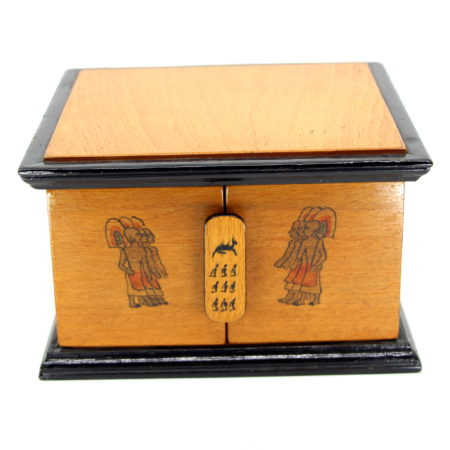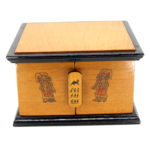 In 1965, Herbert Martin Paufler wrote an article for the German Magazine Zauberkunst (1965, Issue 4, pg. 22-27) called Die Mumien describing the full mummy sequence (floating, disappearing from one sarcophagus, reappearing in the other sarcophagus) with an unusual graphic theme. These designs were turned into a beautiful set of mummies by an unknown craftsmen as described here.
In 1973, the British Mini-Magic creator and authority, Alan Warner was approached by the Magic Dealer Max Randegger from Hofstetten, Zurich, to design a version of the Mummy. Max was given the routines, notes, and details for the fabrication of the Mummy by the widow of Oskar Rey. Max supplied Alan with an Oskar Rey set and Alan went on to create his wonderful first version of The Mummy in 1974. This was also Alan's first piece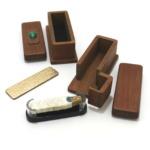 of Mini-Magic made in Teak, which became his primary focus in subsequent years. Unlike Oskar Rey, Inzani-Henley, and Eddy Taytelbaum, Alan chose a different mechanism for the release and was the first to use a 3-D Mummy instead of a flat Mummy. Alan, ever the perfectionist, was not fully happy with the release and so discontinued production of his Mummy until 2003 when he released Mummy II.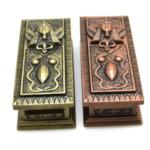 Also, in the 1970's, the German inventive powerhouse Herbert Martin Paufler created a number of versions of the Mummy. In 1980 he showed them to his friend, the prolific and creative, Tony Lackner who in 1982 went on to create one of the most popular and widespread versions of the Wandering Mummy (Die Wandernde Mumie) which was released by Harold Voit and Zauber Zentrale (and also later the Ace Place).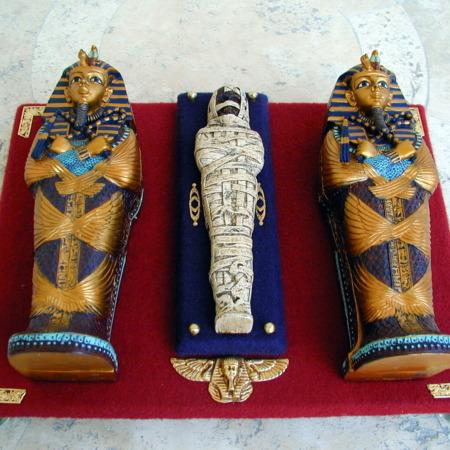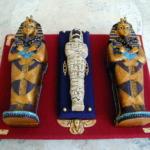 In 2003, Richard Gerlitz created his upscale version called The Mystic Mummy and these were certainly one of the larger and more realistic versions created. Richard tried to remove any moves and successfully attempted to strip the effect down to its essence. As worthy as Richard's version was over the years, I have tended to favor the more Classical versions created by Eddy Taytelbaum and Alan Warner.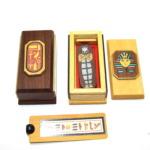 In 2004, the talented young Frenchman François Danis created the first of his three versions: Wandering Mummy (2004), Wandering Mummy II (2007) and most recently his adorable Mini Wandering Mummy (2017). François also created an effect based on Dr. Weyeneth's "Vanishing Mummy" called The Cat of Raskhenotep (2009).
In 2012, another new aspect to this story was created when Kent Bergmann released his reVamped under his Z-Wood Magic line. Kent's version was one of the most innovative versions of the Mummy theme I have seen. He turned the whole method and story on its head and created something that is still clearly a Wandering Mummy, but with a totally unique approach to the method and the story. Needless to say Kent's choice of woods and fine attention to detail, ensure this item looks stunning too.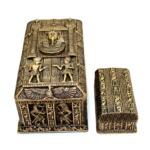 In 2017 the Taiwan based company Magic Wagon created their wonderful version. What is unique about this version is that the two sarcophaguses nest together. This is a nice touch, though I'm not sure it helps with the patter or presentation that much and the outer sarcophagus is quite large, but for some using the sarcophagus as the carrying box was a plus.