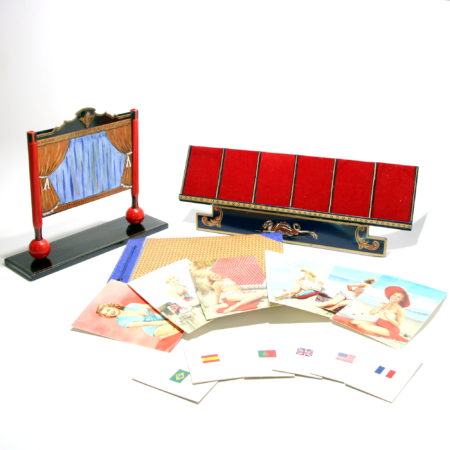 Magiarte were a magic dealer and manufacturer in Portugal of a unique line of magic c. 1956-1996. They were founded by Armindo de Matos and Eduardo Franco. Their beautiful hand painted props are quite rare today and are perfect for display.
The instructions that came with this item say that the photo album starts off with all six color postcards and then just one vanishes to appear later in the ornate frame. But a listing on Potter & Potter says the album starts empty and then the six color postcards appear inside the album. I think the best way to present this would be like this:
Show the empty stage stand and six color postcard and flags.
Place the six flags (Portugal, France, Spain, UK, USA, and Brazil) with the back out on the stand
Show the six color postcards.
Flip through the empty photo album that has place holders for six countries with flags.
Have a flag chosen from the stand to select which country wins the contest.
Vanish the six color postcards (using your favorite method!).
Show the appearance of postcards inside the photo album.
But one is missing and instead a large flag is shown in its place.
Reveal the chosen flag (it is the same flag as appeared in the album).
Show the chosen color postcard appearing on the stage stand.
This seems to be a better routine with a lot of magic and some beautiful colorful props the likes of which you probably have not seen very often.
This effect certainly could be performed, but it probably has more appeal to the collector. The stage stand where the beauty contest winner appears is a little temperamental and has to be handled with some extra control. The photo album and flag cards are cardboard and paper and they probably would not stand up to too much abuse. Having said that they look very good for a sixty year old prop!
Click here for more information.