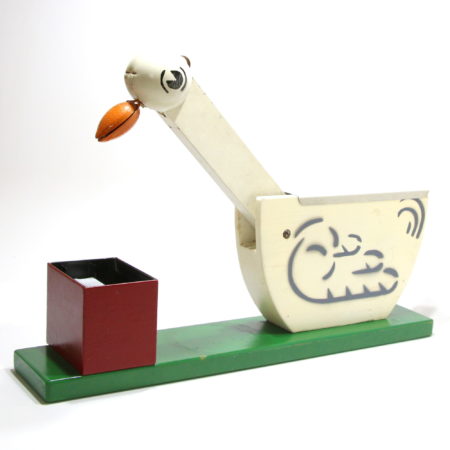 Here he is the original Card Duck invented by Laurie Ireland c. 1936: Otto The Automaton Duck 🙂
I'm so pleased to track this rare find down and particularly one in such good condition and working order! Otto is a big duck – you can see the difference between Warren Hamilton's Jo-Anne in the final photo. He is quite substantial and weighing in at almost 4lbs, Otto is ready to take care of business for sure.
What amazes me about Otto is that even though he was the first duck created he has more features than many later card ducks. Built very solidly by Ireland Magic he has two modes of picking the cards. One using the more common approach by moving a lever in the base of the duck and the other by attaching a thread that goes off stage and operating Otto hands off and separate from the performer resting alone on a table. (In the photos you can see the ring that is attached to the string, this doesn't need to hang out if desired and can be tied off inside the body if you want to hide it completely, but I found it useful where it was.)
I like the beak mechanism too – it looks more like a real beak and operates very realistically. Also because of the way the neck is balanced it is easy to make Otto nod his head which is used quite effectively in the original patter story below (by Jimmy Trimble, Terre Haute, Indiana).
When I ordered Otto I was not sure what to expect but I was very pleased when he arrived and I took him through his paces. He looks perfectly at home with all of the other ducks that came after him:
Otto The Automaton Duck – One Duck to Rule Them All 🙂
Click here for more information.