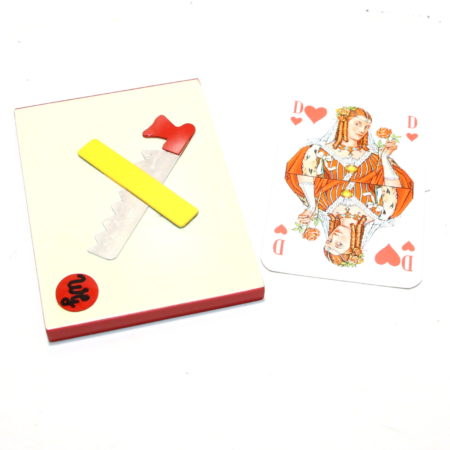 A rare close-up effect from the inventive German craftsman Wolfgang Grosskopf. This is Wolfgang's version of a Pocket Sawing in Half.
The name of this prop in German is actually Kartenetui: which Google translates to Card Case. And the German instructions refer to three distinct effects. Unfortunately, their are only English instructions for the final sawing effect, and although there are German instructions I am not sure if they are complete or not. I don't speak German and the Google translation was not that useful.
As a collectible this is certainly rare, but you will need to spend some time with the props and a good translator to figure out all the details. As it stands you can perform the final sawing effect but the other two are a little more elusive and should be considered bonus items if you can figure them out. At the very least a deck of bridge sized cards would be needed.
Click here for more information.