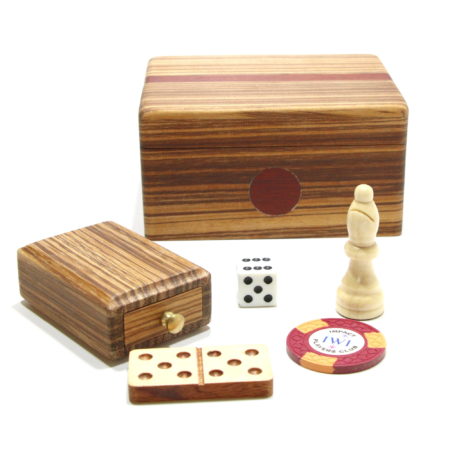 One more from the talented Kent Bergmann! Before Kent became the king of 3D printing he created quite a stir with his Z-Wood (Zebrawood) line of magic. This is a rare beauty from those times. Anything from his Z-Wood Magic line is highly sought after by collectors.
Betcha looks really pretty, but the effects that come with it are a little disappointing compared with the quality of the props. In essence there is a magician's choice, a mathematical game, a corny joke, and a surprising magical transposition to end. Luckily all is not lost … if I was to perform Betcha I would incorporate one or two other effects:
Free Will using the props that come with Betcha (die, chess piece, domino, and prediction)
And for a real optional kicker the new Anverdi Mental Dice.
This is the order I would run them in:
Play the game of NIM
Free Will (play this last if you don't do the Anverdi Mental Dice)
Domino transposition
Anverdi Mental Dice (Extra Optional Bonus)
If you don't have either Free Will or the new Anverdi Mental Dice I would strongly advise that you get them …
Of course you can stick with the original routine and you might decide to tweak it a little. It is not bad, but just felt a little light for the beautiful props. If it was a cheaper item it would probably be fine. But who are we kidding, if you are a collector you'll probably never perform this anyway, so it will look great on the shelf regardless 🙂
I would give this 5 stars if Free Will had been incorporated into the original effect.
Click here for more information.