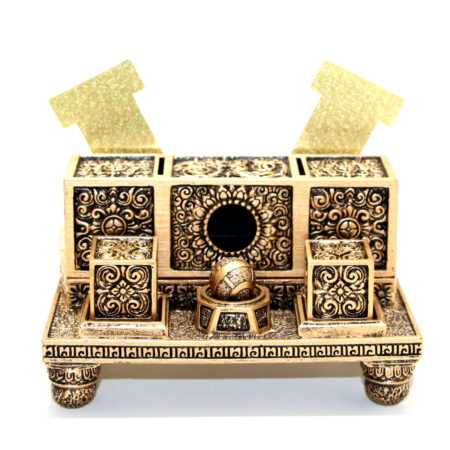 And here is the final effect from Magic Wagon for 2019 and I'm actually caught up for the first time in years! This is another unique and well made effect which looks good and will certainly appeal to collectors. There appears to be no sign as to where the little golden meteor ball disappears too – it simply vanishes between the two blocks into thin air!
In some ways it is similar to the Atomic ball effect with a little more dressing. Some collector's really love all the dressing up of the props, but if you are going to perform to lay people I prefer things stripped down – well made, but without all the frills. That is why I much prefer the original Magiro Hydro Die to the much more impressive Magic Wagon Majestic Hydro Die. In many ways this is why I like Eddy Taytelbaum's magic so much – he makes really excellent props but with the possible exception of his Mummies they are understated without too many extra embellishments. But it takes all sorts and these beautiful props do make for a very wonderful display 🙂
Click here for more information.