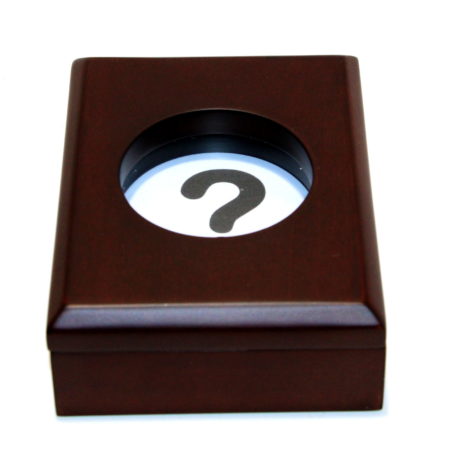 Another beautiful box from Magic Wagon – they almost never fail to produce beautiful boxes and cool items. I like the method, the simplicity and the effect it can achieve. However, I have one issue with this box – why can't it hold the deck of cards you are going to use for the effect? It would make so much sense if you took the box out. Removed the deck and left the prediction for all to see in the box. But you can't store the full deck in the box, all the cards won't fit. If you could carry the cards in the box, it would at least give you a stronger reason for having the box in the first place. Maybe I'm getting too old to see the magic in this this stuff …
Utopia Prediction Box reminds me of the Viking effect English Card Box with which you can perform a very similar effect (though the method is different) with a nice looking box, that holds the deck too, for about $150 less.
Effect: The performer shows a folded sheet of paper which he states will be the prediction outcome and places it inside an elegant wooden box where it remains clearly visible through a glass window. The spectator is then handed a deck of cards to examine, thoroughly shuffle and then give a final cut. The box is then opened and the spectator himself removes the prediction inside. Let's say it is shown to be, for example, "The Seven of Hearts will be the 4th card of the deck". The spectator is now asked to tum over the 4th card of the deck that he himself just seconds ago legitimately shuffled and cut to. Unbelievably, it is the Seven of Hearts!
Remember:
The window box remains in full view at all times!
The pack of cards used is completely normal!
The effect can be repeated with a different outcome each and every time!
The box measures approximately 8.25cm wide, 3.50cm high and 10.80cm deep and has been completely handcrafted from yellow wood with a dark brown matte coating finish.
(Does not come with deck of cards, use your own.)
Click here for more information.