Current Status:
MartinsMagic.com 15,989 hours over 22.37 years (October, 2000).
# Items: 6,251, # Years: 161, # Creators and Dealers: 1,842, # Images: 28,395, # Words: 2,476,221.
# Dollars Spent: $999,598, # Speed Demos: 338, # Video Demos: 3,344, # Other Tags: 451, # Website Links: 4,596.

Background:
My main goal for MartinsMagic.com for some time now has been to grow the online collection with as many examples of fine quality magic props from the last 60 years that I can find and purchase. I'm not trying to have one of every item that each craftsman, dealer, and/or inventor has created, but I am trying to have a good representation of them. I tend to focus on smaller items these days (around 12″ or less as the largest dimension), although I have much larger Stage and Children's props that I added in earlier years I tend to avoid those these days. I also rarely buy books anymore, except for ones to help me in researching origins of various effects such as my recent purchase of the Dr. Albo books. Of course, as with all Collector Rules, they are made to be broken should I see something I must have!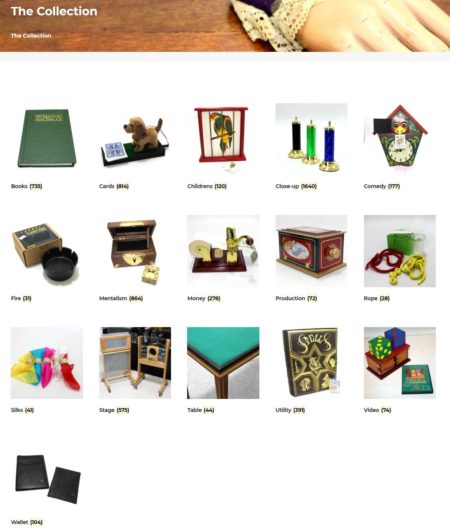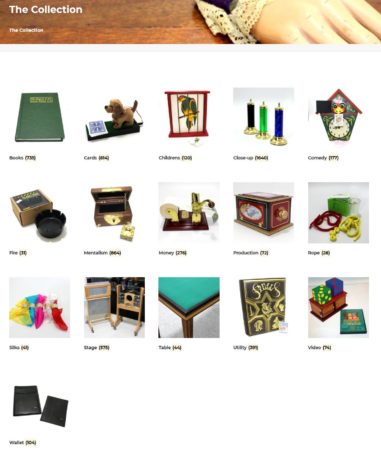 History:
I began working on this website, using my own custom website system, in early 2000 (the final year before the dot.com crash really kicked in). At the time I was creating a pretty nice collection of magic props from the previous 30 years, which today (2019) is closer to the last 60 years. I've never really considered myself a hard-core magic collector, but I know what I like and I go after it with the same gusto that most Collectors (addicts) do.
Photos Only:
The first version of this site was 100% focused on photos. In fact there was not even a slot in the database for descriptions, just reviews beneath the photos. I wanted to take bigger, better and more photos than any of the dealers were doing at the time. I was dismayed that much of the amazing magic I purchased either had no photos online or the ones on the dealer sites were poor quality, black and white, small or few. I remember clearly some of the photos my good friend George Robinson at vikingmagic.com had for $3000 effects and I thought we must be able to do better.
Ye Olde Magic Office c. 2001
Even though I started to sell my physical collection in 2001, after the dot.com crash, I carried on growing the online collection with this approach of just adding photos pretty much uninterrupted until 2014. In 2014, I rebuilt the site using WordPress and the new design left a big hole where the description should be. This prompted me to begin what I would call my History Project …
The MartinsMagic.com History Project:
In 2017, I started to add more details to the descriptions so that the product pages became a more useful resource. Starting in 2019, I made the decision to add dates and details for every single prop on martinsmagic.com, both existing ones and all new items I add – well over 6000 items and counting!
This is what I have termed the The MartinsMagic.com History Project.
Sources:
I have way less than half of copies of all the instruction sheets, and many instruction sheets have no date or creator information, so the only way to do this is to use my personal connections with creators and dealers, scan the internet, research old magazines, catalogs, and books. I have found these books in my own library useful but lacking in lots of historical areas. Two of my most useful starting points are the books by Bart Whaley: Who's Who in Magic and Encyclopedic Dictionary of Magic and although they sometimes lack in detail or specifics they often have given me clues that led to more fruitful findings elsewhere.
In this regard, Chris Wasshuber and his amazing Lybrary.com has been an incredible resource. Without all of the old magazines, catalogs, books and journals that Chris has amassed and scanned this project would have been nigh on impossible. The main online sources I have been using include:
Most of these websites primarily take existing content and catalog it or scan it (in very interesting ways to be sure), but they are often not adding new content. Even when they do add new content, they are rarely taking new photos, and if there is one thing you need for a magic prop it is a photo of the trick, and many of them! In addition to the websites above I have also had help from Alan Warner, Francois Danis, Olaf Guthling, Paul Richards, Howard Baltus, Joe Long, Joe & Mark Stevens, George Robinson, Jim Rawlins, Georg Walter, Gary Frank, Craig Brooks, Michael Close, Donald Croucher, John Mendoza, among others.
Some other online magic Collection sites I have found. I have just started (August 2019) to create this list so it is currently very short, but I hope to find more and add them here. If you have an online magic collection of single or multiple creators let me know and I'd be happy to add it below:
I also have 1000's of emails related to magic with lists and details. And a few 1000 instruction sheets too. Finally, when digital searching fails to provide any useful information, I have a growing collection of hard copy catalogs and the always useful Dr. Albo books.
Detailed Descriptions:
Sometimes I'll write quite a lot on one effect (particularly if I have a few of them) such as The Wandering Mummy and these other examples: Run Rabbit Run, Super Deluxe Bow Tie Mystery, Uncanny Die, Multum in Parvo, Box Office.
YouTube Videos:
For some rarer items sometimes I'll create a Speed Demo video if I can't find any on YouTube:

Grouping Creators and Dealers:
And from a creator and dealer perspective such as Richard Gerlitz and these other examples: Alan Warner, Magiro, Viking Mfg., Collectors' Workshop, Supreme Magic Company, Zauber Butike, Ton Onosaka, Magic Hands, Tony Lackner, Louis Gaynor, Jack Hughes. You can find a full list of all Creators and Dealers here.
Grouping by Decade and Year:
Should you be interested in a particular period of time you can see items by Decade: 1900's, 1910's, 1920's, 1930's, 1940's, 1950's, 1960's, 1970's, 1980's, 1990's, 2000's, 2010's, 2020's or by a specific year: e.g.: 1984, 1995, 2016. To see all the years we have items for visit here.
Thousands of External Links:
Although we don't sell magic on MartinsMagic.com we do seek out websites where you can purchase the items from. Currently we have 1000's of links to external websites that you might find useful when tracking down various effects.
Grouping Themes and Effects:
Whenever I get a chance I'll add extra tags for items that are related, e.g. from a theme/effect perspective such as Seven Keys to Baldpate and these other examples: Card to Box, Glass Penetration, Box Office, Hippity-Hop Rabbits, Card Duck, Mini Drawer Box, Lippincott Box, Light-Heavy Chest, Ribbon Restoration, Chop Cup, Paddle Trick, and Run Rabbit Run. There are lots of other tags that I have added and if it doesn't appear in one of the other lists you might find it here.
The Process:
At every juncture this process takes time and money:
Finding and purchasing the effects.
Taking photos and videos when none exist.
Posting the effect.
Tracking down extra history, links, videos.
Matching with other related items and fixing old data as new information comes along.
Correcting errors as new information comes to light during some research.
Reselling the item such that I have room (and cash) to move in my office 🙁
In Conclusion:
Creating and maintaining MartinsMagic.com has been one of the great joys of my life and I look forward to growing it further over the coming years and decades. I hope you find it useful and enjoyable as so many 1000's of other magicians have done. Please feel free to contact me should you have any questions about a certain item or have more information that would help others.
Thank-you for visiting and come back often as you never know what you will find.

Andy Martin
February, 2019