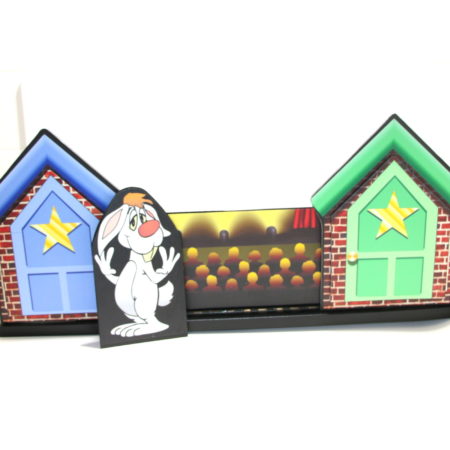 In 1939 the Englishman Harry Leat invented what became one of the best and most enduring children's effects of all time: Run Rabbit Run. Like the Die Box, with which it bears some obvious similarities, it has inspired craftsmen and dealers ever since.
I have tried many versions over the years, but all of them use the same basic mechanism to move the rabbit and perform the vanish. Dan Wolfe has changed that with a refreshing face lift on this 80 year old effect. Firstly, he has made it so that you can change the theme easily from Rabbits to Santa, Elephants and Monkeys (you have to purchase the extra skins from Dan directly). Secondly, and most dramatically he has complete rethought the rabbit movement and vanish. The rabbit that you see go back and forth is actually the rabbit that vanishes in the end and it is a very clean and satisfying approach and unlike any other version on the market.
The unit is quite a lot larger than most standard outfits and even comes with a stand should you need it. It is made exceptionally well and will last most likely a lifetime. The set-up is quick and with Dan's very clear and well produced video you will be fooling the kids in no time.
This is a real beauty Dan, great job 🙂
Click here for more information.