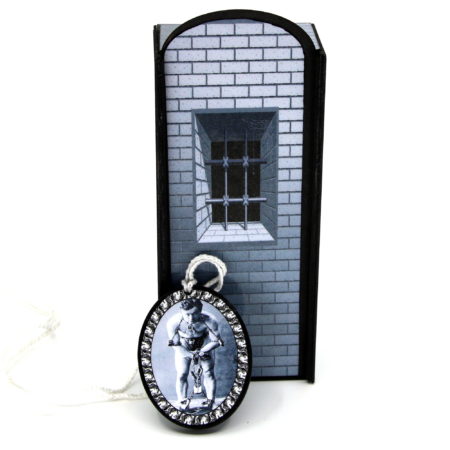 A wonderful looking illusion from Thomas Pohle. It is very similar to Angleo Carbone's Prison Box and Squeeze Thru, though Thomas has never owned either of these items. His effect is based on a cardboard model he saw on YouTube. Thomas wanted to make it in wood – and improve it with his creation of the locking tab. While Thomas' cabinet is not the same as the two effects mentioned – out of respect for Angelo Carbone – this initial run of Houdini's Escape will be the only ones ever made. There were fifteen units sold.
Thomas has done an amazing job on the look and working of this effect – it looks perfect and the mechanism is smooth and easy to use. It is possible to lock the unit in place (unlike the Angelo Carbone's versions), and this is a minor miracle in itself, with very fine tolerances. For me I don't think it is necessary to lock the unit, but having the option is good to have.
A very fine piece that is sure to please both the Thomas Pohle fans and the Houdini Collectors, and given there are only fifteen units available these will be in higher demand.
Click here for more information.