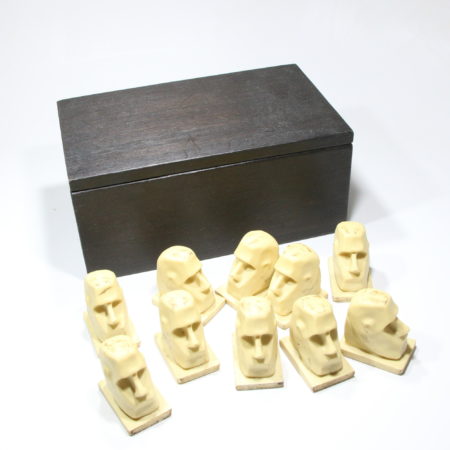 Originally created c. 1995, this is the second release c. 2001 and it is my favorite Fabrice Delaure creation. You know when something is your favorite because you buy and sell it multiple times – this is my third set of these little guys and like the previous two it works perfectly, even though Fabrice has not made these for well over a decade.
In fact, Fabrice no longer makes magic like this – it is all white board and iphone related gadgets. Whilst some of these are cool, I don't think they are as magical, since there are so many screen transmission systems available to the general public anyway.
What I like about the box is that it is not high tech or glitzy and certainly looks devoid of any electronics. There are no switches whatsoever on the box – you simply use one of the giants to turn the box on and off by placing it in one of the slots facing to the back instead of to the front. The transmitter and receiver work 100% of the time and are very reliable even 20+ years later. It uses standard 9V batteries available everywhere. The receiver is about the size of a deck of cards and has ten LEDs representing one for each slot in the box so it is very easy to see which giants are removed.
Highly Recommended for collector's of fine old school electronic miracles!
Click here for more information.