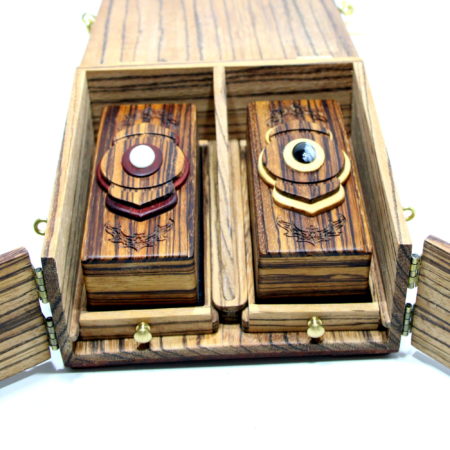 I've been a big fan of the Wandering Mummy theme in magic for more than twenty years and wrote a history of the effect here. One of the big holes in my account was this beautiful and clever version from Kent Bergmann during his Z-Wood Magic days. This is easily the most sort after effect from Kent's whole line and since Kent stopped selling them eight years ago I've never seen one come up for sale on the secondary market. And it is easy to see why.
Not only is the effect one of the most popular themes with collectors in close-up magic with versions from Eddy Taytelbaum, Alan Warner, Tony Lackner, Richard Gerlitz, Francois Danis and others. But Kent turned the whole method and story on its head and created something that is still clearly a Wandering Mummy, but with a totally unique approach to the method and the story. His approach, though based on the others before it has three distinct advantages:
The two caskets are cleverly gimmicked such that the vampire can appear or disappear at will in either casket as many times as desired. This allows for more flexibility in the story line.
Any sounds of the mummy vanishing are covered by the clever idea of rolling the caskets in and out of the main crypt – this is a really nice touch.
The story line seems a little more logical because we are all familiar (from the movies) with how vampires travel in their secret coffins.
Needless to say Kent's choice of woods and fine attention to detail, ensure this item looks stunning too. This is a very rare beauty and is very welcome nestled in with all of the other mummy's 🙂
Click here for more information.