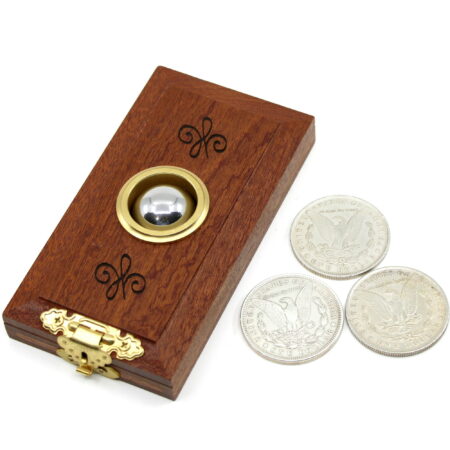 What a beautiful and clever idea from the talented craftsman from Croatia, Damir Djanis. This is the third of Damir's items released by George Robinson at Viking Mfg. and I think it is the best so far.
I've always liked the Cabala type effect but have never been happy with the angle issues. But now thanks to Damir and George those issues are gone. This is a brilliant solution and works perfectly. You can have the whole unit examined and do the magic right in front of them with nothing added or taken away.
The only issue I had with it was that I was not too excited by the patter about Alan Turing. Being a computer guy for almost fifty years I admire and respect Alan Turing as much as the next person but the routine did not work for me.
I came up with idea of using the box as a counterfeit detector and my routine is below. However, to do my routine you need three Silver Morgans (one of which is real) and the other two are fake, but only one is magnetic. I used to think all fake Silver Morgans were magnetic (certainly all the ones I had were), but it turns out that is not the case and when I realized it, this feature led me to my routine. When you purchase this from Viking you will only get one fake non-magnetic Silver Morgan. But for my routine you'll need three Silver Morgans (two fake, only one of which is magnetic) and a real Silver Morgan too.
Thanks Damir and George this is a wonderful item 🙂
Click here for more information.