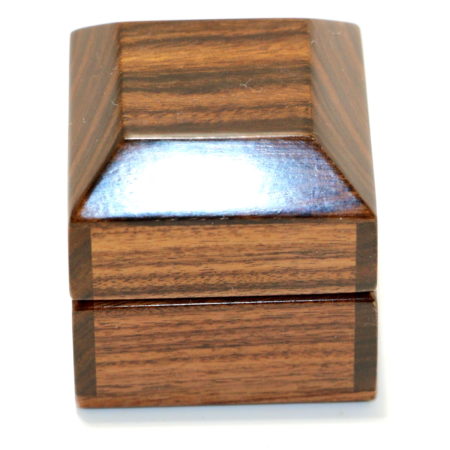 These boxes are meticulously hand made in very limited numbers by Creator Joe Litvinchuk, the custom home builder from Pleasanton, California, using a rare Brazilian Rosewood. Joe became interested in magic at the age of nine, and after over 35 years in the construction industry decided to begin Phantom Magic c. 2010 where he created a fine line of high-end magic for the discerning Magic collector and Professional magician.
Each box is polished to bring out the rich, natural beauty of the Rosewood. They are really stunning to look and at about half the size of the Mystery Box. They are much more finely made with a very different mechanism to the Mystery Box which allows for a very convincing almost visual exchange. From an engineering perspective these are streets ahead, but I'm not yet convinced I prefer the effect, need to spend time with this one to see. Either way a beautiful box.
This version was the rarer and more expensive of the two versions released – the other one was made from Padauk which you can see in the advert on this page. The box is incredibly smooth and flawless.
Click here for more information.