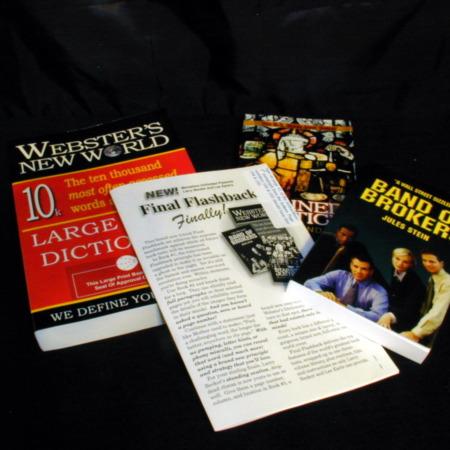 Final or Complex FlashBack?

I have been trying for a while now to simplify my magic and I was hoping when this Final version of FlashBack came out from the great minds of Larry Becker and Lee Earle that I could throw the rest of my book tests away.

Unfortunately, this was not the case and I found the whole system more complex than I expected. To me this is magic for magician's and mentalists, rather than for lay people. Larry and Lee have thought of all of these clever ideas and embedded them in these books. But it just seemed too much for me. I have no doubts in their hands it kills, but I just did not have the stomach for it.

The books are well printed and although some have said the books don't look real, that was the least of my concerns – I just found the number of things you have to learn to perform this whole routine to be more work than I was prepared to put in. I believe part of the problem is that the routine provided is quite a long routine in the first place. I'm sure for many people this will be just what you are looking for, but they were not for me.

I'll stick with $link(1542,MasterMind II) and $link(1142,Dream Revelation). With these I have a very direct book test, that can be repeated on the spot and once set-up is easy to do.
Click here for more information.