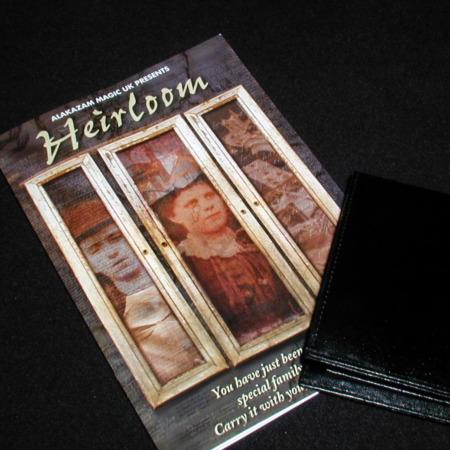 This is Wonderful Mentalism!

Heirloom is a wonderful piece of clean and easy mentalism based on Kenton Knepper's Kolossal Killer. The presentation makes sense and if presented with a modicum of acting ability is not only plausible, but truly unnerving. It does not require any sleight of hand or moves, and is very clean to the audience.

In the original version of Heirloom, the creators (Jamie Badman and Colin Miller) say that you don't need a "special" wallet for this effect. This might be true, but finding one that was easy to set-up and use was quite a task until the Heirloom Wallet came out. Now this wallet is not as slick as The Predator Wallet neither is the mechanics the same – but it is 5 times less money and really works well for this particular effect. The wallet is a bit larger than a normal hip wallet, but it is not too thick and compared with some wallets I've seen is fine. For the price it is impossible to beat! It certainly makes it easier to present Heirloom, without even thinking about it.

The basic effect of course is as simple as asking a spectator to think of any card, and showing a single photo in your wallet with their card on. But with the presentation included it adds a lot more to the impact on the audience.

I had just finished buying all the wallets I needed, until this effect and wallet came along. This one is also certainly a keeper!
Click here for more information.