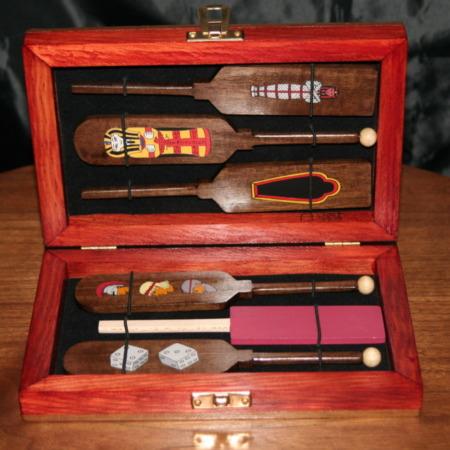 Wonderful!

I love Francois' Paddle Set. The one I have incorporates both the Egyptian and the Geisha designs. The craftsmanship is wonderful, and as I have said before, Francois' passion and love of magic shows in the pieces I have from him.

Each paddle is crafted with beautiful artwork that enables you to tell a story with each paddle. The mahogany box to house the paddles is also beautifully crafted, and I love having it to display on my desk or shelf. The box also is of such high quality that it makes me strive to think of some magic to perform using just the box itself.

Francois is passionate about all of his magic, and I would recommend his magic to any collector or person who is also passionate about quality magic. I already have several pieces, and I will continue to acquire everything he makes.
Click here for more information.