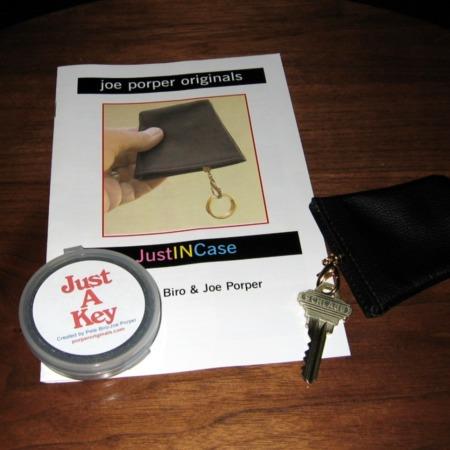 Another Really Wondeful Porper Production!

With this latest fine quality miracle from Joe Porper he has teamed up with magic legend Pete Biro and what sweet magic they produce together.

There are a number of routines you could perform with thie outfit from a straight ring flight (without a dangerous and risky reel) to a clean key off rope penetration.

But when you combine them together you have a real magical mystery: you borrow a ring and throw your key case onto the table. You then hand a shoelace to a spectator and say you are going to make their ring magicially appear on the shoelace under cover of a handkerchief.

Things go badly wrong and you find instead of the ring appearing on the string that your key does! This key is incredibly well made by the way. Then you open up the key case that has been in view all the time and find dangling from the chain is their ring firmly attached to the clasp inside.

Great entertainment, great props, great method, and easy to do!

Something for everyone and Highly Recommended!
Click here for more information.