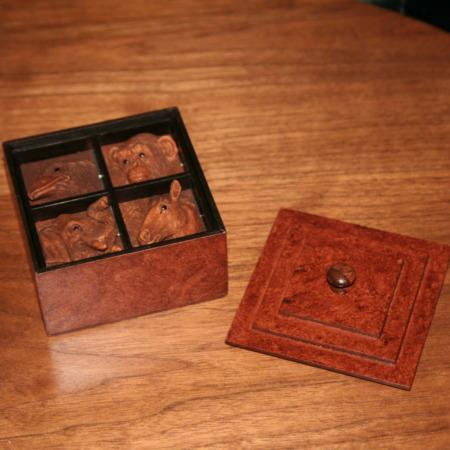 The Best version of T.A. Waters' Box Office

There have been many versions of Box Office by T.A. Waters – all unauthorized as far as I know. However, this one is probably the most practical and most reliable I have seen.

The box is small – 3.5 x 3.5 x 2 – and the mechanism works perfectly every time. Unlike some other versions, this box was clearly built from scratch for this routine.

In effect any one of the animals is chosen by the spectator and a single prediction is found in the bottom of the box, that matches. The effect has a different outcome every time. The spectator can open the box and open the prediction themselves. It is a very clean method.

This piece is not part of the Collector's line of Magic Wagon effects, but it still is a beautiful piece and I really hope it is performed – since it is a really great piece of mentalisim.

Highly Recommended!
Click here for more information.