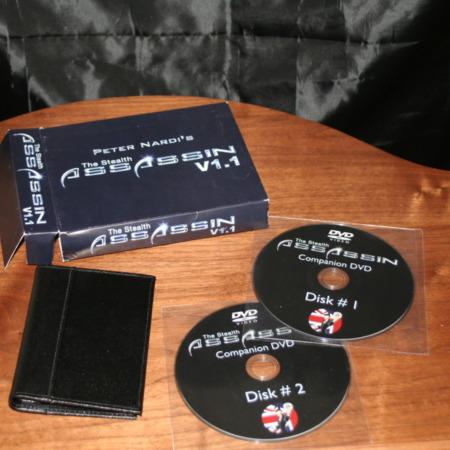 Great Wallet the way it should have been made!

This is a great wallet, and now made the way it should have been in the first place. If you have 1.0 and don't use it very much, then it probably is not worth upgrading since the changes though nice are relatively minor. However, if you do use the wallet then the upgrade makes more sense. Of course if you don't have the 1.0 version then you are in for a real treat with this version.

The Stealth Assassin is very well made in England – not quite as good as Jerry O'Connell's work, but still very fine, and it has a heck of a lot built into the one wallet. Most wallets you can set-up for one trick, and it does it well, but then you are done. With the Assassin you can set it up for 3 or 4 effects with little trouble and each one uses a different feature of the wallet.

You can use it as Peek Wallet, a Mutiple out prediction Wallet, an Out to Lunch Wallet, and even a card to wallet with variations on these themes. I could easily see you building a whole act around the wallet, and in such a way that the wallet does not seem like a prop. It is just a wallet for holding predictions and cards for the effects.

The wallet looks very normal and easily fits in your shirt pocket – Peter says you can use it as your real wallet, and I have no issues with that – you really could. The two DVD's that come with it have Peter Nardi + Marc Spelmann in fine form, and they made me feel a bit homesick for sunny old London. They detail many routines, tips, and ideas in over two hours of video.

This is a wonderful package with which you can build some very sweet magic and it all fits into a neat little space.

Highly Recommended!
Click here for more information.