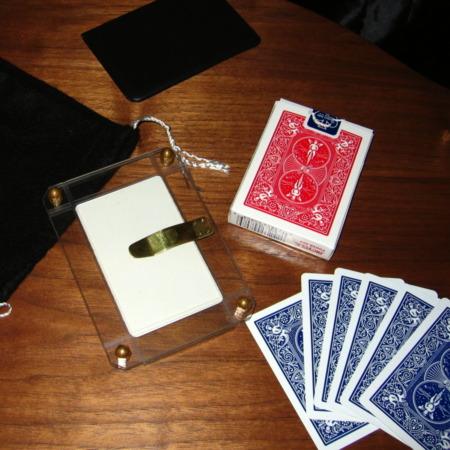 One of Johnson's Best!

So we all think of Johnson Products as being all about coins and coin gimmicks. Well this was one of their early non-coin effects, that was made equally well as any of their coin work.

This has been long unavailable which is a shame because it really is a wonderful effect. The basic effect is as follows: You introduce a small black bag and out of the bag take a deck of cards, a small wallet and a blank card sealed between two heavy perspex plaques. The spectator chooses a card and it is placed face down in a clip on the outside of the plaques. Then you show some blue backed cards, with blank faces and take one of these and also slide it under the clip facing the red card.

You then place it in the empty bag for a few seconds to develop and when the plaques are removed the blank card now has the red face on it and the card sealed inside the plaques has the chosn card. They are free to examine the plaques as much as they want – the card really is sealed in there.

Very lovely props and a clean simple method that will impress you.

Higly Recommended!
Click here for more information.