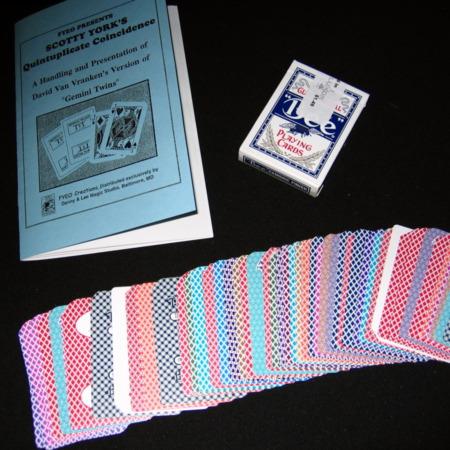 Wow – so easy and yet so Powerful!

This is one of those effects that is really very startling to watch, and yet is almost embarrassingly easy!

In effect, you have a special deck that is made up of different cards from various casinos shuffled by the spectator. You then take the deck back and procceed to choose two cards from the deck as your predictions. You then hand the deck back to them and they are free to deal as many cards as they want (no force) in front of the first prediction card. Whey they are done the prediction is marked and the cards are dealt again into another pile for the second prediction card. Once the predictions have been laid on the table, the magician does not need to touch the cards.

Amazingly enough the first prediction is found in the deck and it is next to a card with the same colored back. The other prediction is found and it too has the same colored back. When each prediction is turned over it is found that the card predicted not only has the same back but the value is the mate: e.g. four of hearts and four of diamonds. Finally, when the rest of the deck is turned over all of the cards are the opposite color to the prediction cards!

This effect looks visiually stunning and is inredibly easy to do with everything examinable and freely shuffled.

Highly Recommended!
Click here for more information.