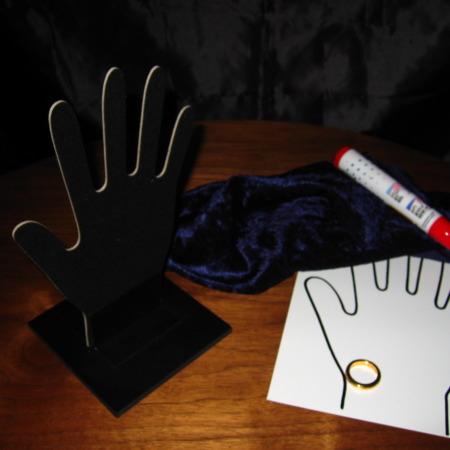 An unusual idea and a fooler!

Here we have another El Duco effect that is unusual and a fooler. The props are workable, just not beautiful.

The effect is you show a hand in a stand and borrow a ring from a member of the audience. Under cover of a hanky you then place the ring on one of the fingers – without the spectator knowing which one. They now are given a pen and a small white board with the shape of a hand on it and are asked to circle just one finger. They have a totally free choice, and yet when you remove the hanky there is the ring on the correct finger. This works everytime and can be repeated if you so desire.

Once you have the knack it is easy to do, but does take some practice at first and cannot be done totally surrounded.
Click here for more information.