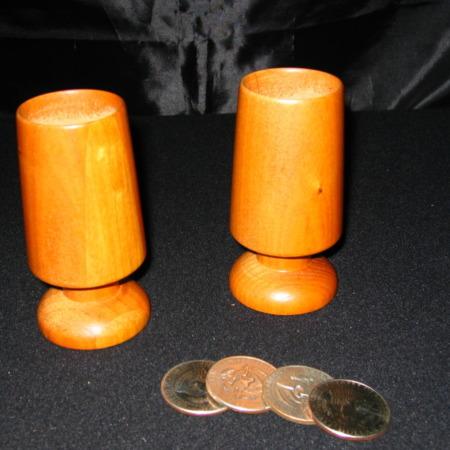 So close to a real Winner!

El Duco frequently has some great ideas – I am not sure this is one of his however. Unfortunately, not all of his ideas are manufactured to the the standards that I would like. This particular effect is so close to being a real winner but I fould the manufacture only ok. I also think there are at least two other versions of this effect that are basically the same – one in brass and one in wood that probably should be checked also.

The idea is cool since it is the standard Cups and Coins effect, where the coins travel from one cup to the other, one by one. But with this version the coins are normal and the cups look pretty close to normal too. The two main problems I have with this unit are: 1) it should work with half dollars, but sometimes in practice it did not due to the quality of the finishout for the gaff, 2) the quality of the cups is good all round, but inside they are not finished properly and I'm not sure why.

This being said, if you do it with quarters or halves (assuming I just have a poor cup) it is much easier than the other version and there is no banging of the cup on the table, or any such madness!
Click here for more information.