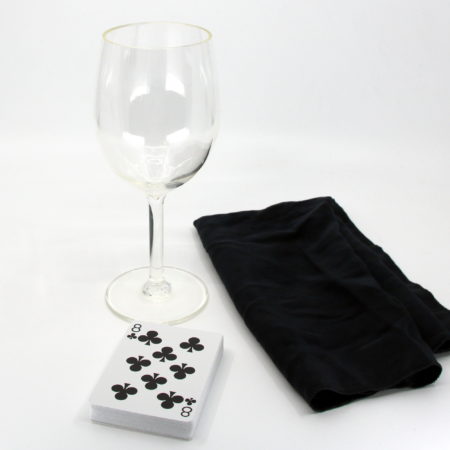 This effect was original created by Eric Lewis c. 1947 and is still being created by Eric's son Martin Lewis. When Eric Lewis and Magikraft Studios first released this they used a special custom holder which worked fine, however it did look a little more like a gimmick. More recently they released a version using a custom made plastic wine glass. The wine glass works just as well and looks less like a prop so that is the version you probably should look for.
This is what Martin Lewis says about the change: "My father, Eric Lewis, created the Comedy Come-Back Card and designed an acrylic houlette for use with it, wine glasses being too breakable. If acrylic wine glasses existed in his day I'm sure he would have used one. A wine glass and napkin are far more innocuous looking and lend elegance to the effect."
It really is a very simple effect that has a wonderful impact on the audience.

Click here for more information.