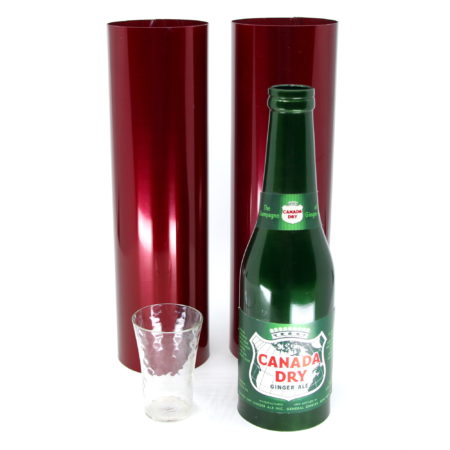 Wow what a stunning set of Passe Passe bottles and these are in immaculate condition.
When these were first released Richard Himber had multiple versions of Canada Dry effects, including:
Canada Dry Vanish,
a Shrinking Bottles effect,
a Diminishing Bottles effect and,
a Passe Passe Bottles effect,
and they were often mixed and matched. This is basically the Passe Passe set – it comes in the original red box but comes with no instructions.
Because the bottles nest you could of course use it to vanish or appear a bottle. As far as I can understand it Richard Himber paid a fortune for the moulds ($1,250 in 1947, about $15,000 today) and wanted to get as much out of his investment as possible.
The other nice thing about this set is that all tubes, bottles and glasses all nest into one small package.
Click here for more information.