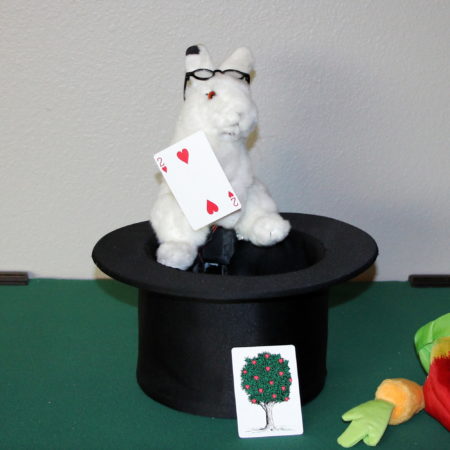 Q-rrito IV is a beautiful looking rabbit that is quite animated. This version IV released c. 2013 improves upon Version III introduced c. 2009. Although the circuit board is programmable I did not even attempt to do that, I just worked with the standard routine. The instructions detail how to program the device step by step, but I would be very careful because there are no backups and if you mess things up you'll be stuck with possibly an unusable rabbit 🙁
The original instructions are four pages long, but most of that is maintenance and how to program the unit. Only three sentences cover the routine with little information on how to make it work. I spent about 6 hours playing with and positioning things correctly and finally came up with this basic routine that seems to work well. You can still add more patter of course, but the basic routine is laid out clearly for you below, rather than in the original instructions.
The standard routine is about a 2 minute program where Q-rrito follows precisely the same movements each time. Once you have the rabbit you can play with what he can do. He picks up things using Velcro and magnets and it is easy enough change the cards should you desire. Because the rabbit follows the same motion each time you can see where he will go and place things accordingly. This is my routine:
You start with the top hat covered with a silk.
Turn on the rabbit, and say: "Would you like to meet my friend Reggie?" (they say yes).
Remove the silk and announce "Ladies and Gentlmen: Reggie the Rabbit!
To your embarrassment they just see Reggie's back as he continues to nap. The rabbit will take 10 seconds to wake up.
Then finally Reggie pops up and looks around moving his head had paws and bobbing and weaving. Learn the motions and the more you interact with him the better the performance.
You have a card chosen (forced) and place the cards in the top hat while Reggie is still moving around.
"What's wrong Reggie?" He goes down again and picks up a carrot …
You say "No, No, that won't work, (removing the carrot) please find the card Reggie!" And he goes down and brings back the Tree of Hearts!
"No No Reggie! That is not the right card, perhaps you need these glasses?" – and you place a pair of small glasses on his head. He looks quite cute. "You ask him will they work for you?"
Reggie goes back down into the hat and the glasses either fall off or move to the top of his head and he comes back quickly shaking his head No No No! These glasses won't work.
Then Reggie goes down again and this time he finds the card and shows it for all to see!
He takes his well-earned applause, thanks the audience and goes back into the hat to sleep.
Then you cover him up again (and turn him off).
You have quite a lot of lee way and if you play with Q-rrito IV but the placement of the cards and carrot are important. With the set-up I use I now have almost 100% success rate of picking up the cards, carrot, and glasses. As long as you build up a good rapport with him it won't matter too much if one of the things fails. But if you position them correctly it should be fine. I spent hours figuring out where to place the Velcro, the cards and the carrot so you don't have to. None of this was in the instructions when I received it.
The Rabbit itself is adorable and very plush made from the WWF Plush Collection by the prestigious Dutch firm Ann Club Plush.
My wife loves Reggie 🙂
Click here for more information.