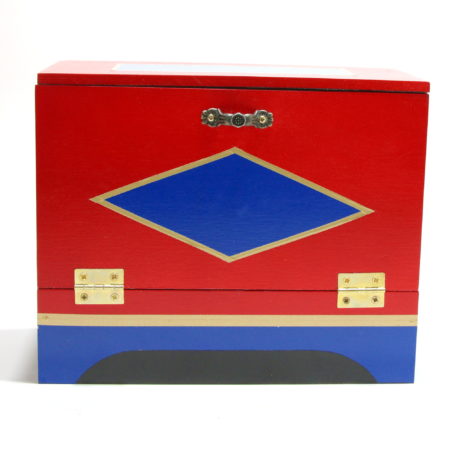 The Silk Cabby was invented by British Magician Tom Sellers c. 1933 in his booklet More Secrets, and it was originally called A Colour Change Handkerchief Box. Described in Dr. Albo 6, and also with historical detail in The Ultimate Thayer (pg. 71). The the name Silk Cabby was coined by Floyd Thayer as he advertised his first version November 1933.
This colorful and beautiful version was created by Michael Baker exclusively for Stevens Magic. As always with Michael's creations he has added features that he has refined over the years as a long time performer. This Silk Cabby does not use the older elevator method which means the mechanism is smoother and less error prone. Michael has also added felt to dampen any sounds, a larger chamber to accommodate bigger loads, and uses magnets for the doors to streamline opening and closing the doors. In addition, the box is painted in such a way that from a short distance it appears that the base is open, making the illusion even stronger.
Click here for more information.