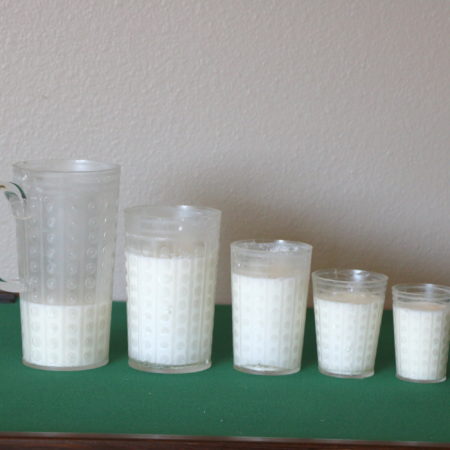 This is the best version of the classic effect Multum in Parvo (Multum en Parvo, Multum in Reverse) using the significantly simplified and self-contained method created by the Malaysian Magician and Inventor, Tan Hock Chuan, c. 1947, though conceived years earlier.
Tan Hock Chuan published his method in The Magic Wand (Vol. 36, 1947) after reading an effect that was credited to Benson DuLay in The Magic Wand (Vol. 35, 1946) called: Milko Multum Im Parvo. DuLay's method was considerably more complex and required the use of custom glasses, table and tray and although the effect was pretty much the same, once you had seen Tan Hock Chuan's self-contained glasses without a gimmicked table and tray, there was little reason to ever use the DuLay method again. In Bart Whaley's wonderful resource, Who's Who in Magic, Benson Dulay is credited as the creator of Multum in Parvo, and Burtini even won 1st Prize for the Invention, at the 1948 FISM. This is accurate, but the method created by Tan Hock Chuan, is the version that everyone sees and has used pretty much since he created it. Indeed, in Tan Hock Chuan's original routine he actually vanishes the small tumbler at the end using a Squash style gimmick, which makes for an even more impressive ending to an already clever routine.
This version, true to Tan Hock Chuan's method, was first introduced by Mephisto-Huis in the 1960's. Custom crafted using thick Perspex (plexi-glass) and sold by Harry Stanley, and later Ron MacMillan, The Magic Hands, and others and is still the gold standard for this effect.
Unlike some versions. Mephisto-Huis thought through the design and added in a useful feature by including a special molding inside each glass to widen the pour area. If you know the method and effect you will understand immediately what I am referring to.
To give you an idea of how thick the perspex is, the hole designs you can see on each glass are actually drilled into the glass. Although this is clearly a stage effect even from about six feet it is very difficult to make out any gimmickry with the glasses. This is a really wonderful version of this classic effect and performed well looks absolutely amazing.
Click here for more information.