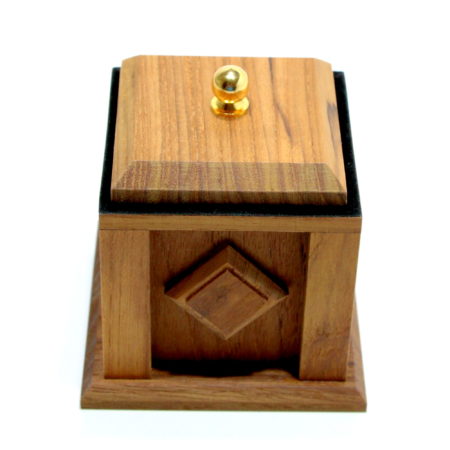 2020 began very well for Magic Wagon with two wonderful releases early in the year. This is a perfect utility device to cleanly force 1 out of 5 billets or small cards. It is inspired by Magic Wagon's earlier release the MasterMind Box c. 2010 (which is one of the few items I missed when it came out originally for no particular reason). It is quite similar to Louis Gaynor's Miser's Dream Box also from the same year, however the mechanism is quite different and easier to use with nothing hidden in your hands, or added or taken away. But what really sets this release apart is the two wonderful routines written by John M. Talbot which are very well written and really make the most of this beautiful prop.
When John gets involved you know you are in for a treat as we saw with his wonderful routine 3rd Degree Psychic included with Mini Diceloation. With Revelation! John is back in fine form. Along with writing the overall routines for the basic effect he includes two other wonderful routines:
The Wish Box – a great idea which maximizes the experience and really engages the audience. Done well there won't be a dry eye in the house. What is also neat about this routine is that it is very versatile and it will allow you to include all sorts of cultural references to fully capture the imagination of the audience. It can be applied to almost any theme you need for your show (Christmas, Graduation, Wedding, New Baby, Retirement, etc.)
The Gamble – this provides a great bit of mentalism, combined with surprising finish that will have them kicking and praising you at the same time.
What John also does is to inspire you to to think about how you could use this box to improve existing routines. When you have five guaranteed outs you can often think of routines you already do that could be extended or improved with this box. Because it is a box it could possibly hold the props too, so you can provide a reason for the box in the first place and perform the standard routine and then make it stronger with a final killer revelation.
This is a wonderful box that comes with some wonderful routines and has plenty of potential besides. Great Job guys 🙂
Click here for more information.