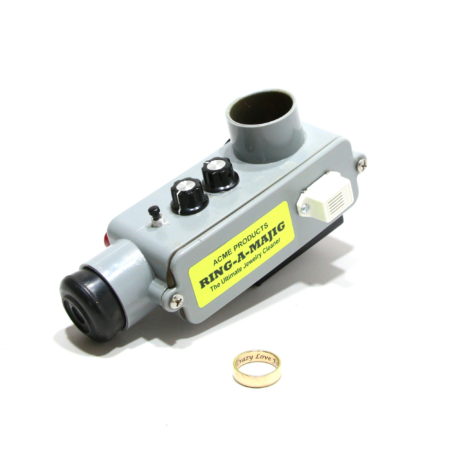 When you first get this you'll probably be disappointed 🙁 But don't despair read on …
The Ring-A-Majig does not look as well engineered or finished as Chance Wolf's Ultimate Ring Grinder, and it is nowhere near as pretty as Viking's Deluxe Ring Grinder or as elegant as CW's Ring Cruncher. But if you plan on actually vanishing a ring this is the perfect utility device. It is true it doesn't look like a collectible magic prop, but it does look like an industrial device that a mad scientist could have created in his back room. This is a good thing and looks can be deceiving because although it might not look as slick as Chance's grinder, it functions perfectly. It is built by Tim Wisseman so you know it is engineered to last.
If I wanted to actually perform a Ring Grinder type effect, the reasons I prefer this to other Ring Grinders are:
It doesn't look like a magic prop.
Although there is a large hole in the bottom to deliver the ring, it can covered with three fingers and convincingly be shown on all sides.
The flash addition creates a perfect distraction to steal away the ring at the appropriate time. In fact you could steal away an elephant if you wanted 🙂
Because it looks like an industrial device it is much easier for the audience to believe something has really gone wrong.
The comedy potential with this device is improved because of the above.
Click here for more information.