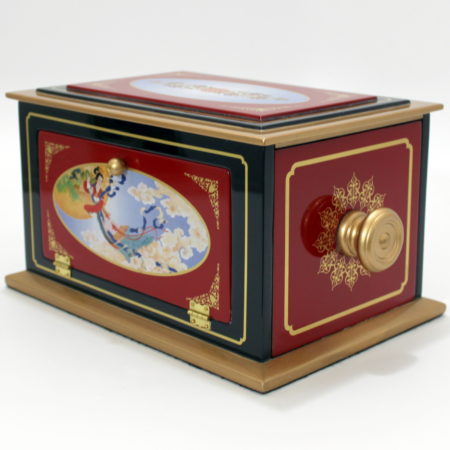 The Most Beautiful Prop Ever?

Well it may not be the most beautiful prop, but it is easily the most beautiful drawer box ever. This is absolutely breathtaking. I've always liked the drawer box as a production method, and the Oriental Drawer Box from Worth Magic is a real beauty. Also, I've always been very partial to Owen's Sesame Cabinet. But when I saw this stunner, I fell in love. It is probably Milson-Worth's finest piece – I can't think of anything that either Jim Simon or Lyn Johnson have done that is more perfect.

The mechanism is perfect and the paint job is breathtaking. It is almost like someone said to Lyn Johnson build me the most beautiful box you can think of regardless of cost. He certainly delivered. My understanding is there are only three or four of these out there, and that would help explain the price.

It is totally flawless and a time when I wish I had six stars! As long as I have room, I will be keeping this bad boy.

Highly Recommended for Magic Collectors and True Romantics everywhere!
Click here for more information.