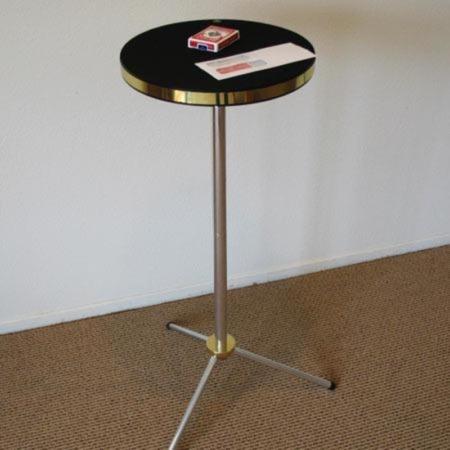 An Amazing Magical Apparatus!

Much has been said about apparatus looking too "magical". Well, here is a hefty, practical and innocently looking magician's table that cleverly hides a wondrous mechanical and electronic setup that permits the performer to perform an incredible miracle. Laying on the table before the performance is a windowed envelope with the back of a card clearly visible inside. At any time the performer has a spectator name any card. The envelope is raised off the table, one end cut, card inside slid out, and it MATCHES the spectator's thought of card. Collectors' Workshop released some fantastic apparatus in their day and much attributed to the genius of Nick Ruggiero. I still admire the workings of Silver Odyssey and Bulletproof. Well, Nick started a new line of "museum quality magic apparatus" under the new banner of Signature Pieces and Perfect Card is his best seller. Now that I own one, I am not surprised.

The working is practically fool-proof. One owner told me that after a 1000+ performances, the apparatus has not once failed to have the revealed card match the one named by the spectator. For those admirers of sophisticated magical gadgetry, they will definitely not be disappointed. Though this is the most expensive magical addition to my collection, Perfect Card is clearly undervalued. This is even more true when one sees the prices being paid for magic on recent online auctions. One look at the whole prop and the workings and one quickly realizes what a bargain this really is in today's market. One is almost tempted to show off the workings as it would likely cause more raised eyebrows than the effect itself.

The whole table is very sturdy and quite HEAVY…this is not one flimsy table. There is clearly a lot of metal in the brass and chromed components that make up the base. The table stands 38 1/2 inches high. The top measures 15 1/8 inches in diameter and only 1 1/4 inch thick. It is metallic in construction, probably black painted brass and decorated with a bright brass band around the perimeter. The top is felt lined and removeable. The apparatus breaks down nicely into a quality ATA case, made by Encore of North Hollywood, CA, that measures 7 1/4" by 18 1/4" by 18 1/4".

Overall, truly a rare masterpiece of magic…thanks, Nick!
Click here for more information.