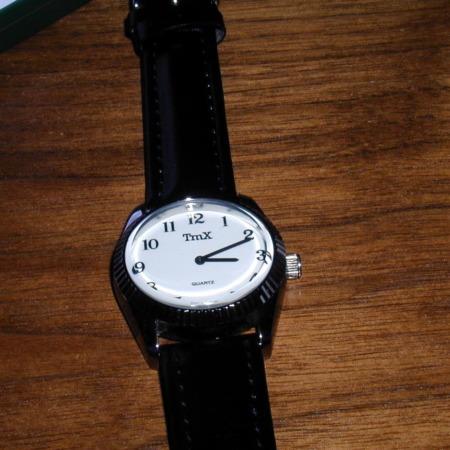 A very nice, well priced Stull Watch

This is a very nice watch that works basically like the old Stull Watches, does not cost an arm and a leg and seems to be very consistent.

Basically you take off your watch and show how the winder freely moves the hand (as it should!), you then turn it over and hand it to them so that they can move the hand to any time without seeing.

You can always predict the time. The other good news is that you can repeat it up to 3 more times without the same number recycling. The watch can be examined before and after and comes with am impressive instruction booklet featuring more than 12 different routines.

The only problem I had with this effect was that the numbers on the box that were meant to be the "random" times this watch stopped on were wrong. This is easy to resolve you just write down the numbers for your watch the first time and then you are done from then on.

If you can't afford the Richard Gerlitz Prediction Watch, then this is the one for you. One thing to be wary of: some of the early watches actually had the name "Timetrix" on the face – the instructions are printed that way but the watch itself has TmX on the face. When ordering yours you might want to ensure that you have TmX on yours. It seems a bit strange why they would go to the effort of creating what looks like a normal watch, and then stamp the name Timetrix on it!

Highly Recommmended!
Click here for more information.