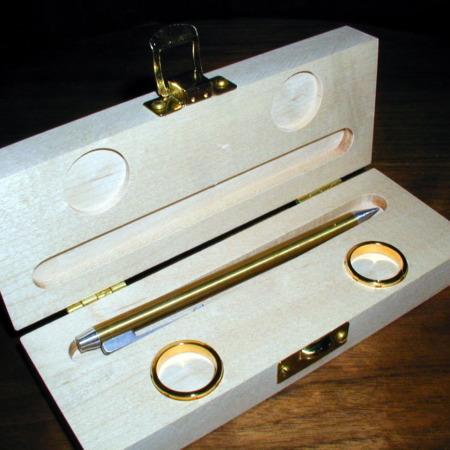 This Miracle isn't cheap, but it is Beautiful!

This is clearly one of the best of the $link(nd=gallery&keywords=joe.porper&flag=Joe%20Porper,Modern Joe Porper line). It is beautifully made, it is quite stunning when performed properly and it employs a clever mechanism. So it fills the Craftsmanship, Ingenuity, and Entertainment checklists of the Very Best Magic. Later in the year $link(http://www.dcheetah.com/?tagent=martinsmagic target=_blank,Digital Cheetah) will be developing a new website that just features The Best Magic, and this is precisely the sort of effect you will find there.

It arrives in a solid (and heavy!) hardwood presentation case and comes with a detailed booklet of instructions with lots of photos. To do justice to this effect will take some practice, but that is a good thing as we all know. The moves are certainly not difficult and the killer ending with the Al Koran inspired pen is accomplished all too easily!

The price at $695 is up there! But, unlike some of the other effects in this line, I believe you will be happy with it, and once you perform it you will for sure feel confident you have made a great choice. The dealer ads say this is a limited edition, but no mention is made of how limited the edition is. But if you are tempted to get one I suggest you get one soon – the amount of work to build these is by no means trivial so the supply will eventually run out.
Click here for more information.