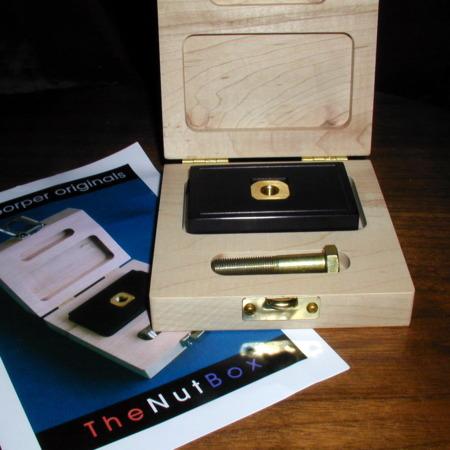 Nicely made and clever.

This is a nice piece from Joe Porper. It comes in the easily identified hard wood case and is made in Joe Porper's popular anodized aluminum style.

The effect is simple enough. You show the nut in the box and ask a spectator to thread the bolt into the nut. It clearly is very solidly threaded into the bolt.

You have the spectator unscrew the bolt and then you show them how using magic you can thread it instantly. And this is what you do, one minute it is not threaded on the bolt and the next second it is – no covers or anything to hide. The whole unit can be examined both before and after.

The box is a mechanical gem and has great potential too fool you. The only real problem I have with this effect is: why do you need the black box at all? Why can't you just thread the bolt on the nut in an instant without the box? Of course that would not make for an expensive collector item, but it would look more magical. But enough of this heracy – the box is beautifully made and the mechanism is clever.

Click here for more information.