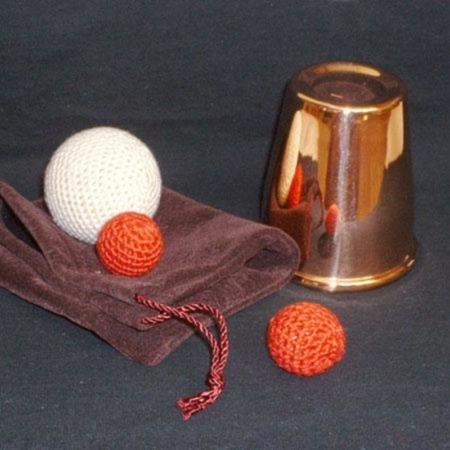 "The ULTIMATE Metal Chop Cup"

Jim Riser has released one incredible chop cup. This is the Riser Shorty in copper and is a true testament to metal spinning art. This is a hefty goblet sized cup made of TWO layers of metal allowing the gimmick to be conveniently hidden between the walls, hence the weight. When I first opened the package and held the cup in my hand, I immediately knew this was special. After playing with it for a while, I could only admire the workmanship. Jim truly outdid himself.

One issue I always had with chop cups is over that certain force needed to dislodge the ball and the occasional embarrassment of the ball not dropping. I always thought that the rather forceful landing of the cup on the working surface was too suspicious and awkward. Well, Jim may have solved the problem. How would you like an almost "automatic" chop cup? With a slight twist of the wrist holding the cup the supplied hollow steel core crocheted ball can be dislodged without the cup hitting the table. Yet, the same ball can be dropped into the cup and poured out without any attraction to the cup, if desired, and always in control. Is this feature alone worth the title of the ultimate chop cup? Add the beautiful double walled spun cup in brilliant copper and there is no cup in existence to beat this one.

The Riser Shorty is designed for the close-up worker. The Riser Tall spun in aluminum is also being released for the stage worker. I own several Riser cups and this is definitely his best release. What a great contribution to magic from this talented master craftsman..thanks, Jim.

Click here for more information.