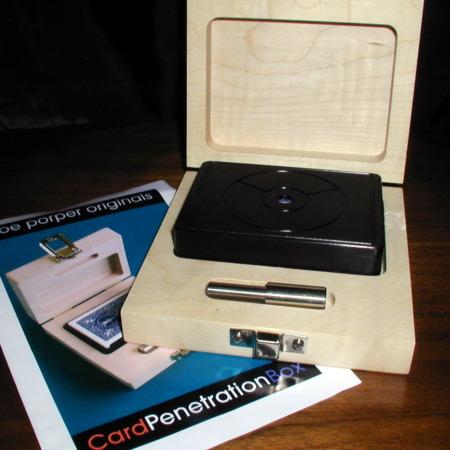 For Collector's Only

This is probably the worst effect in the current Joe Porper Line. The effect holds great promise, the box is well made and looks nice.

The premise is you show the black box, with hole running through the middle and show a bolt that goes through the hole and then you add a full deck of cards and clearly demonstrate that the bolt cannot go through the deck. Then after the magic incantation you ask the spectator to push down on the bolt and it goes all the way in penetrating the deck. You can then pull out the bolt and hand everything out for examination.

However, it has some serious angle issues and takes some real talent to pull this off without exposing the method. I found the box just too difficult to seriously use. I also found it strange that although there is a hole running from top to bottom you cannot show the bolt coming out of the bottom after the so called penetration.

Anyway if you are collecting the Porper Line you'll have to get this, otherwise I really think you will be dissappointed with it.
Click here for more information.