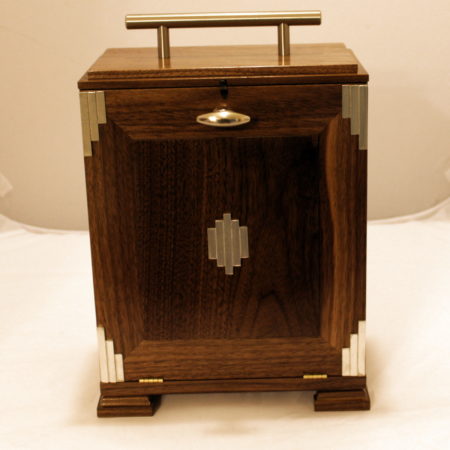 Astro Ball Grows Up

I only own small props by Dave Powell, so I didn't know what to expect from him with an effect this sizable. In Dave's case, the quality didn't go down when the size went up.

This reworking of a classic is stunning. First, the construction is what you would expect if you are familiar with Dave's work. It is created with care using high quality hardware and woods, and the assembly and finish are works of precision.

Second, the design is a vast improvement from this effect's predecessors both visually and mechanically. Visually, the piece is elegant and mysterious, with no garish designs or decals. It can serve you well as a straight trick, or as more of a bizarre spirit cabinet presentation. Mechanically Dave chose to make a very logical jump from the horizontal cabinet like the Milson Worth version, to a more dramatic, vertical construction. The conversion makes for a more appealing presentation since the emphasis is now on height verses horizontal space. The interior is tighter, which makes the appearance of the ball in the glass seem more impossible.

This is now my favorite Dave Powell effect. I hope he continues to dabble with the parlor-sized pieces, and reworks some other classics. He may be reinventing the wheel, but his wheel is better.
Click here for more information.