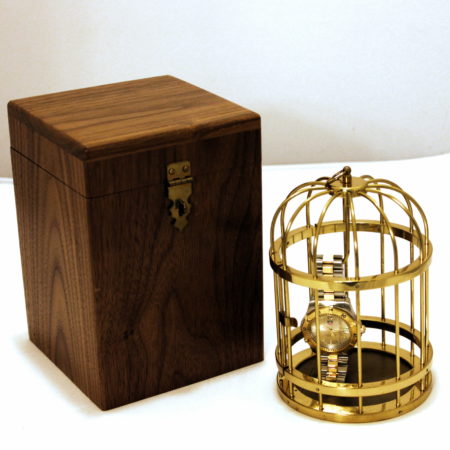 One of the real Collector's Workshop Jewels

I've wanted this item for many years but have missed out on the runs that George has made. It is a very clever and beautiful item that works perfectly. One of the best thought out items that the original Collector's Workshop put out. The box is a beauty and then you see the cage – wow what a wonderful combination.

In effect a watch is borrowed and covered with a hanky and held by the spectator, whereupon it vanishes. Then this perfect wooden box is pulled from a bag that has been in full view all this time along with a key. The spectator opens the box and inside the box is a gold cage that fills the box. The cage is pulled out and their hanging in the center is the spectator's watch and they open the door and retrieve it.

Unlike some of the early CW pieces the routine is very well thought out and the vanish and appearance all work perfectly. This is definitely a highlight in my collection.

George will be doing a new run soon so make sure you get signed up for one – you will not be disappointed.

Highly Recommended for Collectors and Performers.
Click here for more information.