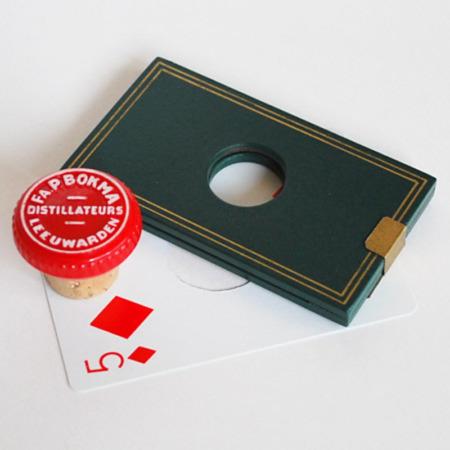 Wish I had more Taytelbaums

Eddy Taytelbaum has no equal and inspired the mini-magic line that Alan Warner took on as the next generation with splendid results. This is Eddy's cork penetration effect which, I am told, was invented by him.
The effect is clearly visible in the images. The cork can be examined before or after the effect. I have seen others copy this effect, but there is clearly NO comparison to the original.

The slide is so elegant as only Eddy can handcraft. It's all wood with a beautifully applied dark green paint and his signature gold striping on the edges. The paint job is so smooth I can only think of Milson-Worth as the only other builder with such excellent results. It is hinged so it can be opened to expel any suspicions (the slide is ungimmicked). A brass hinge at one end keeps the slide locked closed.

Considering its age, this sample is in fantastic shape, as mint as you can get…what a relief as I have seen many Taytelbaums in poor condition. But, then, these were intended to be used. I only wish I had more of Eddy's work in my collection, but it is hard to come by and expensive when is does.
Click here for more information.