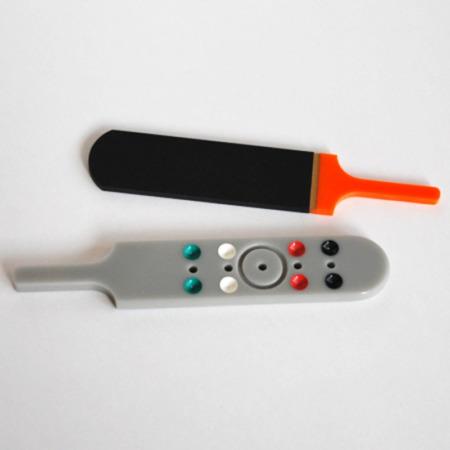 I love paddles and Eddy's are even better

One good thing about the recession is that these Taytelbaum paddles sold at a "reasonable" price…still several hundreds, but not 3 figures as in the past. That's how much in demand Eddy's work exists.

I find it sort of ironic how much complaints I read about the Tenyo line being made from plastic that a new Tenyo Elite venture will try to correct this for performers and collectors. The quality of the effects is there, it's the material that turns people off. Yet, people are willing to pay the big bucks on one particular line of plastic magic tricks that happens to carry the Taytelbaum name. Of course, what Eddy sculpts from plastic are masterpieces and well deserved of the praise and prices these demands, but was just thinking.

Anyway, here are two paddles that sold as a set at a Swann auction. The top is a classic chalk paddle and the bottom is a rather unique version of the jumping peg paddle. The design is very interesting as the close-up image can attest. Not sure what inspired Eddy to design it as I have never seen another jumping peg paddle like this one. Both were in mint condition and so beautiful up close. One can only admire the workmanship. No recommendations needed here, the Taytelbaum name speaks for itself.
Click here for more information.