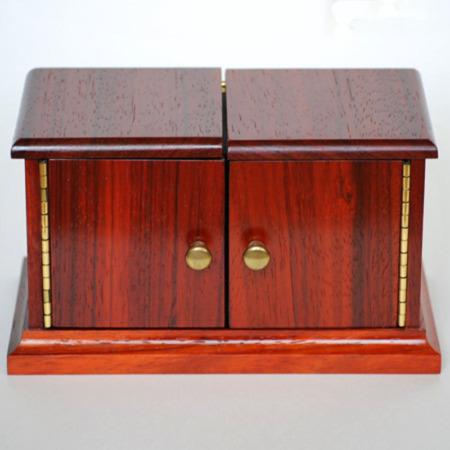 Tough to top this Die Box

I must first admit that I am not a die box aficionado, but the beauty in the work of this die box was irresistible. Only one other die box adorns my collection for the same reason and that is the new version of the $link(1819,Milson-Worth Deluxe Oriental Die Box).

The construction is solid and meticulously built to please the most neat picky of any collector out there. The choice of wood is Padauk and the grain, color of this gorgeous African wood shows throughout. The people at Owen, on my visit to that mecca of magic, told me only about a dozen were made; the rest being Walnut.

However, the most attractive appeal to me was that this was a part of a select group of items specially commissioned to celebrate their 100th anniversary in business. That was clearly and artistically branded onto the back panel of the box as shown. I just love it!

Of course, the box functions perfectly and the slide is a smooth, solid thump to convince the spectators that the die is indeed moving side to side. The paint job on the shell and die are perfect, reminiscent of the quality on Milson-Worth apparatus, but then, this is an Owen item and to be expected.
Click here for more information.