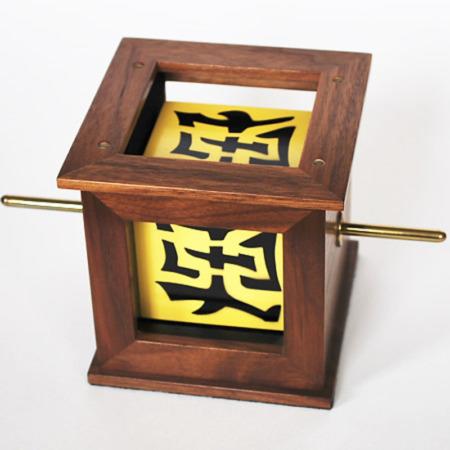 A Classic and the Best is an Owen

I have always had a fancy for this effect. The earliest models included Lloyd's Jewel Chest of Ching See and, more recently, Richard Gerlitz updated it with his version, The Temple of Dragon and Jewel Chest of Sea-Ling. This is the Owen model and a treat to own.

Simplistic skeleton frame used for the cabinet, but beautiful solid walnut construction and bright, brass touches on the sides stands out. The block is an elegant yellow and black Oriental design..nothing fancy but perfectly complementing the cabinet housing it.

The effect is a solid block is shown and locked into the open cabinet with a solid, examinable rod. A top hat or any container is placed on top. In an instant the block is seen to visually fly up and penetrate into the container on top where the block is now removed and freely shown. For those in the know, the one problem with the Lloyd's model was that the "release mechanism" was openly placed in front for all to see. Owen moved it naturally to the bottom of the cabinet within easy reach when you lay the apparatus on your hand for the performance. It's fast, though a bit "noisy"…one of my only qualms.

Click here for more information.