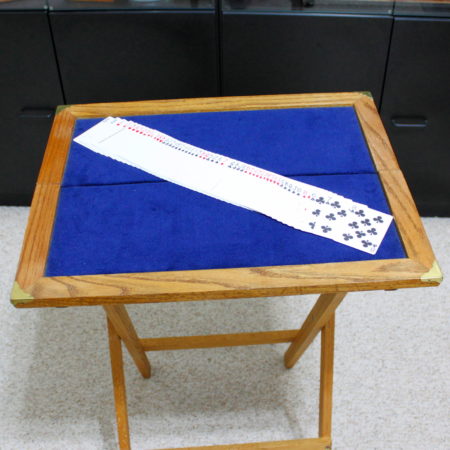 The Best Street and Close-up Table!

J.C. Wagner, who sadly passed away in August 2010, is remembered mostly for his bar and close-up magic. However, he was a great craftsman too as is attested by this perfect table he built. I don't know how many he made or if he made other items like this, but I love this table!

It opens and closes in an instant. No catches, screws or fasteners – one second it is open the next it is closed so it is perfect for walk-around and street magic. It is very solid and has a large performing area. It looks beautiful made from oak with brass corners, yet it is also very practical and will take all sorts of beating. When closed the top of the legs form a handle which makes it incredibly easy to carry around. It has a large load hidden servante which is perfect for loads and vanishes.

The thing that amazes me most is how strong and solid the table is once opened. Typically these portable tables are pretty fragile – not so with this table it is really solid.

I've been looking for a table that I can use for small close-up performances with 4-6 people and this fits the bill perfectly. Thank-you J.C.!

Highly Recommended.
Click here for more information.