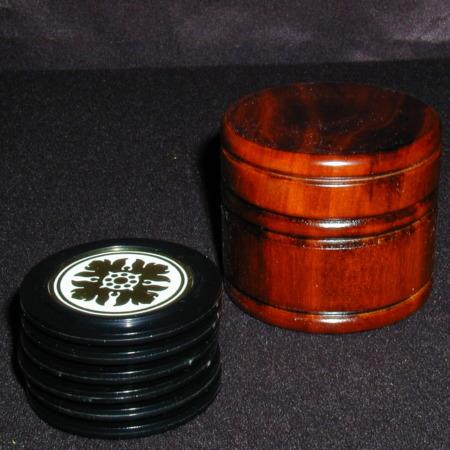 I love this effect!

This is a very simple and clean prediction effect that looks great and is very reasonably priced. Mikame Craft have thought of everything on this one. Reset is easy, the turned wood box for the chips is a delight and each move in the routine makes perfect sense.

The basic effect is this: you show the box, tip out the 6 chips, place one on the top of the box as your prediction, then spread out the other 5 face down on the mat. The spectator chooses any one and it is stacked on top of your prediction chip. You then show the other 4 are all different colors, and turn over their chip and the prediction chip and they match. There are no sleights and there can be a different result for repeat performances and reset is a few seconds.

The chips are made of a heavy plasic that will last a lifetime, and it is true that it would be nicer if they were made of wood but for the price its really hard to fault this effect. The reason they are using the plastic chips is because the chips were marketed separately as a different effect and all that Mikame have done is add the box. But by adding the box they turn this into a wonderful little piece and make use of the box in a number of ways that ensure the prediction is clean and smooth.

I highly recommend this effect!
Click here for more information.