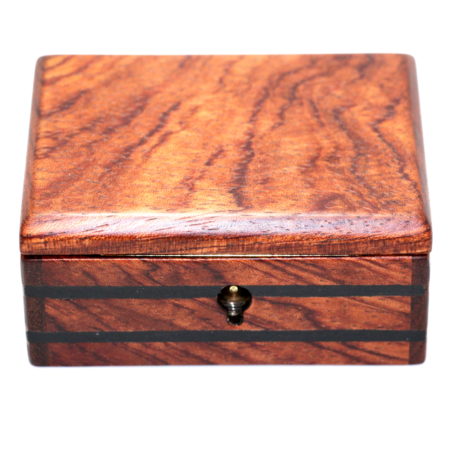 I was so impressed with the basic version of Box Ninety-Eight that I contacted Dan (or Dannicus as he is known) to see if he could build me a pro version.  And boy did he ever!  Dan created a limited edition of one for this beautiful box in Bubinga (Brazilian Rosewood) with ebony inlays.   It's hand finished with 8 coats of boiled Linseed oil, beeswax and buffed.
This box is slightly smaller than the basic version and fits in the hand even easier.  It works like a dream and if you wonder what sort of items I keep in my collection – well this is one of them.  Perfect in every way and such a clever and secret mechanism.
Working with Dan was a pleasure and I look forward to buying more from his great company  Handcrafted Miracles in the future.  Thank-you Dan for giving so much to the craft, it is always a pleasure working with a genuine craftsman who appreciates the art of magic.
Click here for more information.