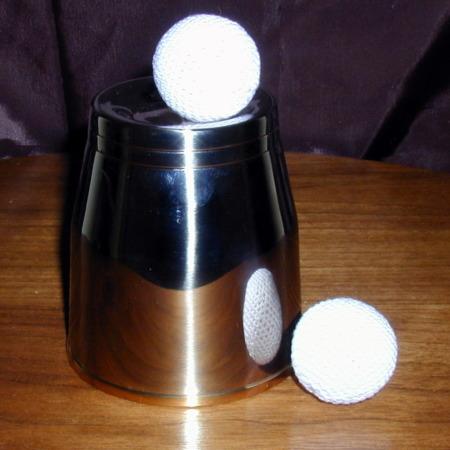 Feel the Weight and the Quality!

Wow this Don Alan Chop Cup from the newly reformed Rings 'N' Things II is a beauty! Just be careful you don't drop it – not because it will harm the cup, but because it'll put a dent in your floor!

It looks gorgeous, and feels so solid in your hands you just feel like a pro when you pick this baby up. The bronze lip and inside lining looks very impressive too. I am told that this is the last run of these and there are only a handful left so I suggest you put your dancing shoes on and get on over to Howie at TheTrickery to pick one of these beauties up.

One of the problems I've had with some other Chop Cups in the past is they were too light and so the dislodging of the ball seemed like an unnatural operation. But with this guy there are no problems like that.

We all would like to do the Cups + Balls, but who has time to do it justice? At least if you start with the Chop Cup, you have a chance that you will get to the Cups + Balls some day. And in the process you get to understand why this is such a beatufiul effect. It comes with the classic routine by Don Alan. There are also many fine things to do with the Chop Cup in Mark Wilson's book: The Chop Cup.

If you want to perform the chop cup then you will be hard pushed to find a more beautiful prop to work with.

Highly recommended!
Click here for more information.