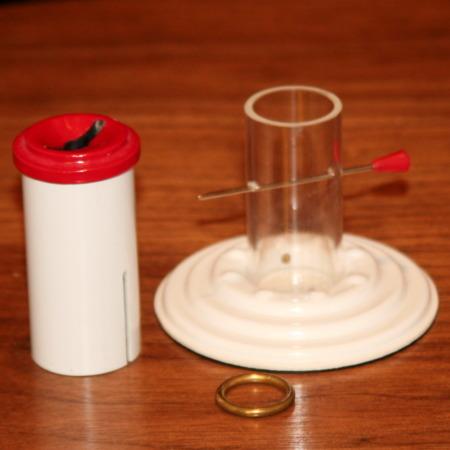 Matthias "Magiro" Weißl invented this effect, likely in late 70s, and named it "Mikro Ringautomat." Upon first importing it in 1984, Howard Schwarzman renamed the effect to "The Witch's Tunnel" — presumably for the catchier title but perhaps also to hide his source. Magiro's effect has been remade by both Magic Wagon as "Ring thru Sword Mystery," and the legendary Richard Gerlitz as "Sea-Ling's True Love." Magiro made the gimmick itself, which has magnetic, wood, and steel components. However this gimmick is housed within plastic, which was manufactured by Werner "Werry" Geissler — yet another underrated German inventor.
The gimmick is simple but brilliant. It appears and vanishes in the blink of an eye. The working is entirely mechanical and foolproof. You must ditch something to end clean, but the misdirection is so strong that this should not be a problem. And then everything can be examined, the base, cover, pin, and ring. One of Magiro's finest inventions, and well worth the hype.
Click here for more information.