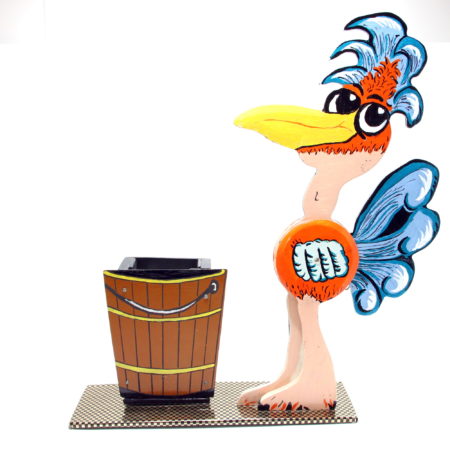 First there was Otto, then Jo-Anne and Gwendolyn, and along with many others I finally have tracked down Jack Hughes' wonderful Fifi 🙂
Fifi is bold and beautiful and quite a lot larger than the modern day standard duck: Warren Hamilton's Jo-Anne, though they both weigh about the same (approximately 1 lb.), and I've included a photo at the end for comparison.
Fifi uses a different approach to picking the cards, with no moving parts or stickness, which works surprisingly well – I had a few issues at first until I got the knack of it. It is easier to grab more than one card, but that is true of all ducks depending on the state of the cards. Fifi is designed for bridge sized playing cards (which I include) – many items from the UK use bridge sized decks because that was certainly much more common last century (and I expect it still is).
I do think the colors and size make Fifi a little more fun, but as I have mentioned before the Card Duck appeal primarily stems from the interaction of the performer with the duck – it could be a sock puppet and you could get just as much out of it. But for collectors Fifi will look amazing in your collection 🙂
Click here for more information.