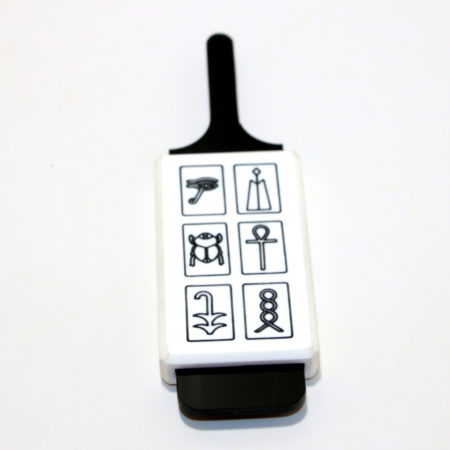 I bought this trick in February 2021 on ebay.de. The trick was accompanied only by a copy of an advertising paper from Keyl's Magic, from a time before the Euro and when typewriters were still used. Since I like to look in at Martin's Magic, I then found my trick as "Egyptian Paddle". Andy did suspect Harry Keyl as the manufacturer, which I was then able to confirm by email with a photocopy of the advertising sheet. Since the sequence of a paddle trick can be easily reproduced from the prop, I wrote a routine for it, which Andy has in bumpy English translation from me.
About Harry Keyl and Keyl's Magic is unfortunately almost nothing to find on the Internet, although there is a H. Keyl in Zwolle (Netherlands) with the address of "Magic-Harry".
Andy then sent me the instructions for Harry Keyl's "Turtle Race". I will make a trick out of it with three rabbits and a hedgehog and playing cards as race track and train cards. In Germany there is a fairy tale of "Hare and Hedgehog", where the hedgehog tricks the hare instead of a tortoise. Because the hedgehog man and his wife looked completely the same.
Horst M. Paffen
Near Cologne in Germany
Click here for more information.