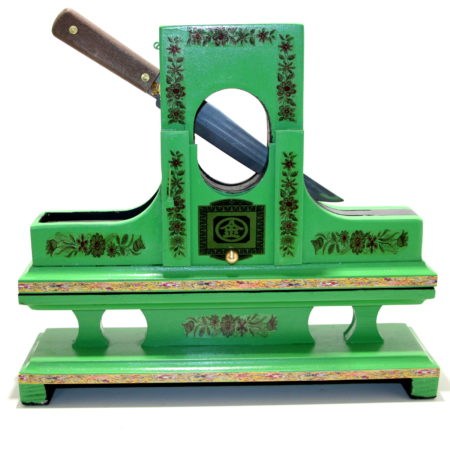 For years my favorite chopper effect has easily been the See-Thru Guillotine by Wellington Enterprises. It checks all the boxes and simply looks amazing. But it is large and expensive, and even though it is difficult to imagine how it could work it is still a large magic prop and all sorts of things could be going on.
What I love about this truly amazing chopper from The Limited Edition Magic team of Paul Lembo and Joe Long is how real everything looks. You show a normal knife which can be examined if desired and cut things with it. Then you place the victim's wrist (or head if you are a little guy like Pug!) into the unit and clearly show the blade resting above the wrist – in fact the spectator can really feel it right next to the skin. And then you proceed to slice the knife through their wrist slowly and deliberately. Then hand the knife over again for examination if desired. It looks amazing and the illusion is perfect!
It simply looks like real magic and if you were actually going to cut someones wrist off I think you would do it the same way. Plus you have to love the video where Paul Lembo already has his finger in a band-aid from an early test I'm sure 🙂
It may not be as physically impressive as the Wellington Chopper, but boy does it look real – perfect for Halloween and all the nights after. It is a good compact size and is very quick to set-up. In fact you can turn up at the venue and just do it. To do it as convincingly as Paul Lembo will take some practice, but just timing and routine nothing is difficult and to be honest when you are dealing with sharp knives you should be prepared to take some time to make the whole thing smooth, otherwise you'll end up with a nicked finger like Paul in the video!
Click here for more information.