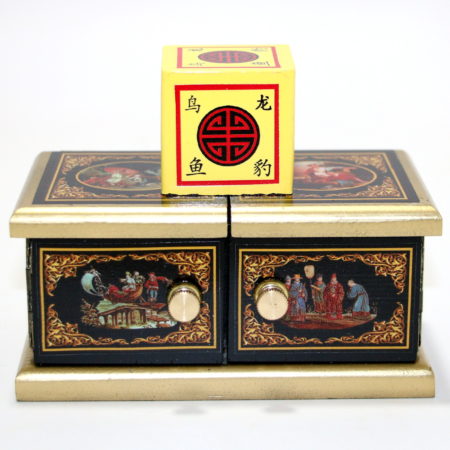 Michael Baker creates some beautiful magic, but you have to love his mini effects. I'll be the first to admit his larger die boxes such as the Oriental See-Through Block Box and the Oriental Twin Die Boxes are going to take your breath away even more, but this little guy is awfully cute!
This is Michael Baker's first effect from the Magic Crafters Meeting 2018 held in Wichita, Kansas, featuring some of the finest craftsmen today including, Gimpy, George Ledo, Louie Gaynor and Michael Baker. Michael really stepped up on this product which will feature limited production. The collection will be limited to only 20 pieces. If your a fan of die boxes and beautiful apparatus this is going to be hard to resist. It has both functionality and a beautiful look, it would be a shame to not have it prominent visually available.
This unique limited production product crafted by Michael Baker, can ONLY be purchased from Stevens Magic Emporium. The piece is exquisite and exceptionally detailed as one would expect from Michael. The box features velvet lined interior, and of course the necessary sliding gimmick, two top-doors, and two double-front doors.
Dimensions: 5 inches long by 2 1/2 inches wide by 2 3/4″ tall.
Click here for more information.