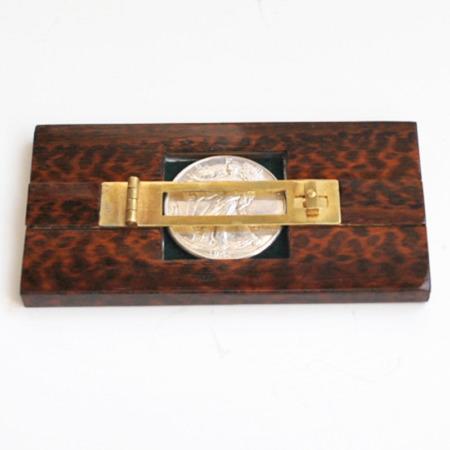 Zig Zag Maximus

I had heard of Mark Teufel in the past, but never owned any of his magic, then I recently read a very positive comment on this item by John Mendoza. For some reason, that piqued my interest in obtaining one.

Eventually, I learned the whereabouts on Mark and it turned out he is a 50 minute drive from my home. When my order was finished, I drove over to pick this up and he turned out to be a very pleasant and friendly man, clearly enthusiastic with his magic. Though I suspected how this apparatus worked, his demonstration left me in doubt, as the magic was amazing to watch.

Not only is this a great trick, the apparatus is a BEAUTY! Heavy, solid brass construction throughout, all masked by a gorgeous, exotic Snakewood exterior (at extra cost and if Mark has it in stock, which is very infrequent, I am told). I knew this would be special, so I had bought on ebay a pair a AU 1945 Walkers to replace his standard clad Kennedys. The result is an apparatus that is a pride to display and perform. Oh yes, as expected, the mechanics is smooth and flawless in operation.
Click here for more information.