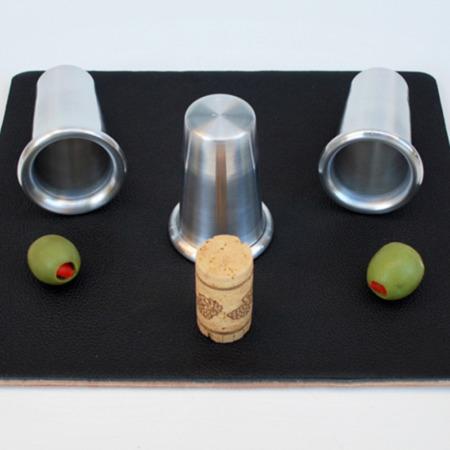 More than you think…

So, you are probably thinking, just another chop cup set…WRONG! This is innovative, extremely clever, and entertaining magic at an impressive mini-magic level…my favorite kind of magic. See the video of Doug's performance and you get only a glimpse of what Jim Riser put together in his workshop. There was a great deal of thought and ingenuity put into the beautiful props that are not so apparent from just seeing the performance. I am telling you that the price justifies what you are getting. You get three double layered gimmicked aluminum spun "shot glasses, two rubber olives, four corks (three gimmicked), special leather performance mat, instuctional DVD, and draw string red bags for storage. This is definitely not your usual chop cup set. And to top it all, Doug sure came up with a very elegant and funny magical routine worthy of the wonderful props.

I sure wish I could say more, but suffice to say that the one stickler on watching Doug's video was the cork vanishes. Was I in for a great surprise on learning the method when I received my Uncorked set…most diabolical and one I had never seen nor heard of in all my years in magic. I don't have one Riser item that has not greatly impressed me and held a special place in my collection.

What also brought a smile was Doug's mention of a "series of magic" coming from him. The first one, Stones of Tutankhamen, was also impressive, both the props, again made by Jim Riser, and the accompanying routine. I will definitely be looking out for the third release from this team.

A highest recommendation on this one!

Click here for more information.