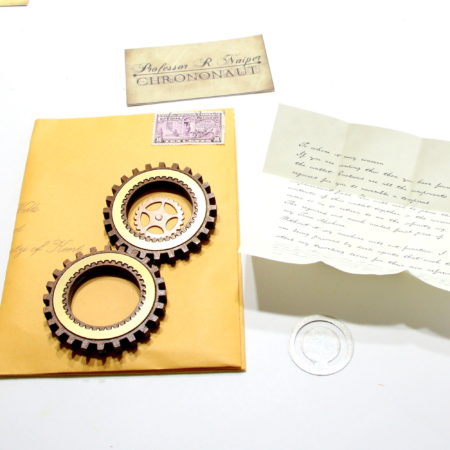 Master Payne is releasing a pet pocket trick from his Steampunk Show. Key of the Chrononaut is an updated and steam fitted adaptation of the Rings of Hindustan trick. A classic effect featured in Dunniger's Complete Encyclopedia of Magic (also known as: the Chinese Ring Illusion, The Two Ring Trick, Magical Mystery Rings, the Chinese Rings of Mystery), sold by Edwells c. 1933 and E-Z Magic c. 1966. A particularly nice version was sold by Alan Wong too.
Brian Cook has constructed this prop out of the finest of materials and to his exacting specifications. The gears have been made from the finest walnut and fitted with brass like interior rings. They truly are a work of art. Plus Brian has added his own twist on this routine which allows both gear rings to be examined at the beginning and conclusion of the trick, allowing you to fool those in the know.
Click here for more information.